When asked what were her chances of winning the Gladrags Mega Model Hunt to be held at Mumbai in March 2009, Delphine Marbaniang said that everything was in the hands of God. Delphine Marbaniang, a 2nd year Economics Honours student of St. Edmund's College recently won the 1st runners-up position in the Fairever Beauty Pageant held in Guwahati. Her mother who works in the veterinary department says that Delphine had an in-born talent to walk the ramp.
It all started in the year 1997 when her parents entered her name in the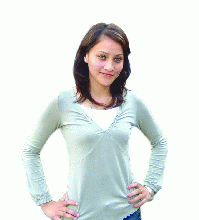 Cutie Kids contest, "Just for fun", she won the contest. This was the beginning, and then in the year 2002 at the age of 13 years she won the crown of Miss Scotland of the East. The next year she took part in the Miss Shillong contest where she won the crown.
As a young kid Delphine seeing the models walk the ramp on television would imitate them. She would put on her mother's shoes, jainsem and pose in front of the mirror.  Apart from her parents, Delphine has an elder brother and a younger sister. Her parents seeing Delphine's talent encouraged her and were very supportive of her. Her father who works in the Rural Bank always encouraged his daughter because he saw that Delphine was talented and he did not want her talent to be wasted. Being concerned parents they would make it a point that Delphine was always accompanied by her mother for every contest that she took part in. Her father points out that Delphine has always been an obedient child.
In the year 2006, after a gap of three years since she last won the Miss Shillong contest, Delphine took part in the Tilotamma Beauty Pageant where she won three sub-titles, Miss Beautiful Skin, Miss Beautiful Smile and Viewer's Choice. Apart from modeling Delphine is also keen to finish her studies, despite having a busy schedule entering various contests she never neglected her studies. After her matriculation Delphine pursued Fashion Studies from B.K Bajoria School where she scored 85% marks. When Delphine first joined the course she did not have any idea what was it all about, later on she learnt that it was mostly about knitting and sewing. After her 12th she changed her line and is presently doing her graduation in Economics from St. Edmund's College.
Apart from modeling Delphine is also interested in swimming and dancing. From the conversation that we had, it could be seen that Delphine is a matured girl whose feet seem to be on the ground and above all she is also God fearing. Her mother who was present during the conversation says that it is the will of God that Delphine is where she is today and in the future too it's all in God's hands. During the Fairever Beauty Pageant held in Guwahati, Delphine won the 1st Runners-Up Crown and the Viewer's Choice Award. As part of the incentives the organizers has selected Delphine to represent the region at the Gladrags Mega Model Contest to be held in Mumbai in March 2009. Delphine is also signing a two year contract with Fairever to be their Brand Ambassador. She is also taking part in the Miss North-East contest which will be held later in the year.
EP. Desk