Have Political slogans dulled over the years?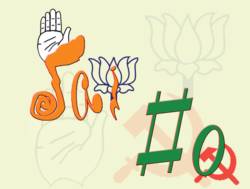 Whether the politicians in India have a literary bend of mind with poetic sense or not may remain a matter to be questioned but the poll-time in the worlds biggest democracy really sees the political parties inclining a great deal for limericks or slogans to gun each other in the electoral arena. 
As soon as the Election Commission of India announced the dates for the holding of the 15th Lok Sabha polls, the political parties in the country busied themselves to coin catchy slogans to wean away the voters from each other. Even as Congress and Bharatiya Janata Party (BJP) have announced their official versions of slogans, the other political outfits are storming their brains to frame slogans. 
What differentiates this time's general election from the past polls for the lower house of Indian Parliament is the selection of rather dull slogans both by Congress and BJP. Have political slogans dulled over the years? Selection of the song Jai Ho of the film Slumdog Millionaire by Congress and Kushal Neta, Nirnayak Sarkaar (Able leader, decisive government) by BJP prove both the political parties need think tanks with more poetic senses and greater mental acumen. 
The Congress has really surprised all by buying the exclusive rights on the A. R. Rahman song Jai Ho. The advertisement agency Percept has purchased the rights of the song from T-Series that produced the cassette. The song accompanies the closing dance sequence of the Danny Boyle-directed movie that raked in eight Oscars. The Congress cadre now will wear T-shirts bearing Jai Ho, but the problem is that CPM, the erstwhile ally of the Congress, has already started chanting Jai Ho as its slogan. Much to the discomfiture of the Congress, its arch rival BJP has claimed anybody can use Jai Ho as this is a film song that belongs to the country as a whole and not to a particular political outfit. Here, it goes without saying that Jai Ho is bound to create confusion in Indian politics during the polls. It really is shocking that way back in 1927, the Congress had invented such a forceful word as Purna Swaraj as a psychological weapon to mobilise the masses. To go even beyond that, in and around 1909 when Bal Gangadhar Tilak had coined the very famous slogan Swaraj is our birth right to add a new dimension to India's freedom struggle. 
When you look at the very witty and supremely catchy poll-time and non-poll-time political slogans of the past, you really tend to question the efficacy of the slogans of the 15th Lok Sabha elections. Even the BJPs slogan Kushal Neta, Nirnayak Sarkaar (Able leader, decisive government) does not seem to be very catchy or rhythmic when compared to its past slogans. The 
BJPs 14th Lok Sabha polls slogans India Shining or Factor of Feel Good had real-life political meaning, unlike this one.
On comparing the slogans of the past with those of the 15th Lok Sabha polls, we find the people then were far more politically imaginative in India than at present. Just have a glimpse of the first political slogan of India penned around 1773 when Warren Hastings became the Governor General of Bengal of East India Company. Some unknown bards had created a very uncomfortable slogan for him:
Haathi par howda, aur ghore par jin
Jaldi bhago, jaldi bhago Barren Hastings (Warren Hastings)
Probably coined in the Oudh Belt or modern Lucknow to hoot the Governor General Warren Hastings, this perhaps is the first major political slogan of India. The people in the Hindi heartland of Bihar and Uttar Pradesh are really poetic when it comes to coining personality-based political limericks. On studying Indian political slogans since 1952, we find the most interesting ones were framed in the Cow Belt or Hindi belt. Look at the Biharis who described their ex-chief minister Abdul Ghafoor in such a brilliant way through a political limerick that nobody, in fact, would need to know more about him. A Congress-leader, this ex-chief minister was massively fond of toddy (palm tree extract that is very intoxicating) and Paan (betel leaf). The limerick composed for him around 1973-75 ran as:
Haath mein botal, mooh mein paan
Yeh hai Ghafoor Mian ki pehchan.
Translating it into the Queen's language, it runs as: if you find a man with a bottle in hand and chewing paan, you know he is Ghafoor Mian, the chief minister of Bihar. Is that not an innovative slogan?
Loknayaks slogan Sampoorna Kranti (total revolution) was so powerful that it virtually shook the whole India
Indian democracy saw the emergence of very interesting cum meaningful slogans and catch words since the first Lok Sabha polls of 1952. In 1966 when Indira Gandhi became the prime minister for the first time, she was known for her reticent attitude. She could hardly deliver lectures in those days. Naturally, the opposition parties, mainly Jana Sangha, coined the term Goongi Gudiya (dumb doll) to denote her. This two word term virtually became a synonym of Indira. 
As the electioneering has heated up, we find the political parties cutting across ideological barriers are really not able to frame sentences to create limericks that could influence the masses. When we look at the Indian political scenario, we find that earlier it was mainly the Congress, the BJP, the Bahujan Samaj Party and the Rashtriya Janata Dal (RJD) that showed ingenuity in creating catchy slogans to gun each other. The Left Parties, including CPM and CPI and Naxalite parties like CPI (ML), never paid much heed towards catchy slogans. One of the primary factors for this is that they have assured or committed voters. The traditional slogan of CPI (ML) remains Naxalbari Lal Salam (Red Salute to Naxalbari from where the Ultra-Leftist movement started in 1967). In that year, Charu Mazumder launched his Naxalite Movement with the slogan in Bengali: Aamar Bari-tomar bari, Naxalbari-Naxalbari (my house is your house, hail Naxalbari). It was in Naxalbari under Phansidewa Police station in West Bengal where Indias Naxal movement started.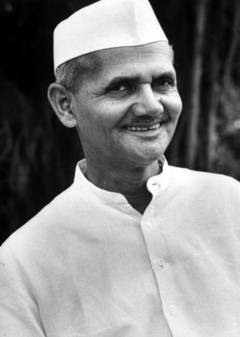 Some of the very interesting slogans were created during the 1967-2004 phases. All Lok Sabha polls taking place during this particular phase really could boast of creative and politically very meaningful slogans be it Aadhi roti Khayenge, Indira ji ko wapas layenge (we may eat half a piece of bread but shall ensure that Indira Gandhi again becomes Indias prime minister) of Congress or Indira Hatao desh bachao of Loknayak Jayaprakash Narayan during the anti-Indira movement of 1974. Loknayaks slogan Sampoorna Kranti (total revolution) was so powerful that it virtually shook the entire India forcing Indira to declare the emergency by suspending the basic democratic rights of people including imposition of censor to the media. 
When BJP launched massive protest against Indira, the party coined Atal Behari bol raha hai, Indira shashan dol raha hai (Atal Behari Vajpayees lectures are so powerful that it virtually shakes the rule of Indira Gandhi). Wah re Congress tera khel, sasti daaru, mahanga tel, this too intoxicated the Indians when BJP wanted to protest the reduction of on liquor by the BJP. But nothing like a poll-limerick by Jan Sangha that created massive impact on the common folk as it was really weaved in a very rustic-manner. But it was supremely successful a slogan in rural India in yester years. It ran as: 
Jansangha ko vote do

Beedi pina chhor do

Beedi mein tambakhu hai

Congresswallah chore hai. 
(Folks, do not smoke as it contains tobacco which is toxic. Similarly, Congress too is vile as it a group of thieves. What you should do is to vote for Jan Sangha.)
Whether it is India is Indira, Indira is India of ex-Union Minister Devkanta Baruah Dev Raj Urss very famous slogan Ek sherni-sau languor, Chikmaglur, Chikmaglur (slogan composed when Indira Gandhi was contesting Lok Sabha polls from Chickmaglur seat), the Congress in the yester years really had very catchy slogans. Here, ek sherni meant Indira and sau languor (100 monkeys) meant the opposition parties. Even Indira Gandhis very famous slogan Garibi hatao too had a mesmerising effect on the electorate in India. Perhaps the slogan coined by ex-prime minister Lal Bahadur Shastri Jai jawan, jai kisan: Lal Bahadur Shastri can prove the efficacy of it as this particular line had greatly impacted the voters in favour of Congress. 
A series of very interesting slogans were composed in Bihar when the BJP and RJD of Laloo Prasad Yadav were engaged in very pitched poll battles. Have you forgotten the BJPs very famous limerick used to oust Laloo Prasad Yadav from No. 1, Anne Marg of Patna: the Bihar chief ministers official residence. Let us rewind the saga of slogans to find out what it was? The historic slogan runs like this: Murgi chore, chara chore, Jaldi jaldi gaddi chore(the thief who stole fodder of animals must vacate the chair of the chief minister). Soon after Laloo Prasad Yadav, now Railway Minister, found his politics 
Selection of the song Jai Ho by Congress and Kushal Neta, Nirnayak Sarkaar by BJP prove both the political parties need think tanks with more poetic senses and greater mental
 

acumen.
derailed in 1997 following charge sheet in Rs. 950 crore Fodder Scam, the BJP coined the above slogan to successfully gun him politically. Laloo resigned and went to jail. This was one of the most interesting political slogans that India ever had.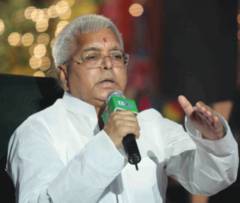 But the Laloo-loyalists too did not lag as far as orchestrating the praise of their leader. The Rashtriya Janata Dals following slogan had been getting played most vociferously at least for the last one decade:
Jab Tak Rahega, Samose mein aloo
Tab tak Rahega, Bihar mein Laloo (as long as you use potato to make samosas, so would Laloo remain in power in Bihar). 
Can you really imagine a samosa without aloo (potato)? The reply has to be an emphatic no. What Laloo-loyalists meant is that Bihar too cannot even be imagined without Laloo. This slogan has already caught up in Bihar together with the personal slogan of Laloo: MY Equation (Muslim-Yadava equation for polls). This Lok Sabha poll is also fought by RJD with these two slogans. 
When you look at the very witty and supremely catchy poll-time and non-poll-time political slogans of the past, you really tend to question the efficacy of the slogans of the 15th Lok Sabha elections.
The regional parties in Uttar Preadesh like BSP and Samajwadi Party also excels in discovering catchy slogans to gun each other. The BSPs Behenji Mayabati really is an expert in coining slogans to foment the masses. Her very famous caste-line slogan Tilak-Taraju- Kalam-Talwar, Maaro inko joote chaar really mobilised the backward castes to vote for the party. The slogan meant: throw shoes on Brahmins, Baniya, Kayasthas and Rajputs. In fact, the BSPs slogans really meant very powerful. To project its poll symbol elephant, a BSP slogan said:
Chalega haathi, udega dhool (when an elephant moves, dust storm takes place)
Na Rahe panja, na rehega phool (neither congress will stand this storm nor BJP can withstand the elephant: the partys symbol). 
In fact, BSP really has been projecting its symbol elephant in the most effective way. When we make an x-ray of Chad goondo ki chhati par (put your leg on the anti-socials, meaning Samajwadi Party), button dabega haathi par (people would press the button on EVMs on the elephant symbol). Similarly, Haathi nagin Ganesh Hai (it is not elephant, but the manifestation of Lord Ganesha), Brahma, Vishnu, Mahesh hain (meaning BSP means everything for UP).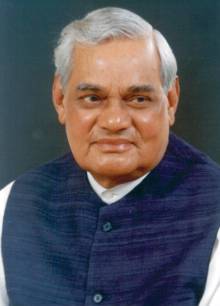 Behenjis mentor and founder of BSP Kansi Ram too was simply excellent in framing slogans. Kansi Rams Vote hamara-Raj tumhara, Nahi chalega-nahi chalega was as much successful as his Jo zamin sarkari hai, who zamin hamari hai. Kansi Rams historic slogan Jiski jitni sankhya bhari, utni uski hissedari, had gone a long way in netting the support from the backward and Other Backward Community in garnering supports from the BSP. 
Most interestingly, the hijacking of slogans also takes place in poll-time Indian politics.  Though the BJP and the Sangha Parivaar had mooted the slogan Atal or a Behari? (who would be the next prime minister Atal Behari Vajpayee or Laloo Prasad Yadav?), its main rival RJD had very cunningly hijacked it in the last Lok Sabha polls to cash upon the sentiment of Bihari electorate. 
Putting the entire Sangha Parivaar in a mighty swoop, the RJDs star campaigner Laloo invariably asked the electorate who would they vote for: Atal or a Bihari? It had created a major problem for the BJP as RJD used their very own slogans. 
Amlan Home Chowdhury