Upcoming Medical , Engineering Colleges in BTC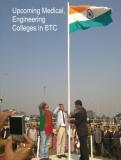 The Minister of Health & Family Welfare and Education, Government of Assam Dr Himanta Biswa Sarma, while attending the 10th Bodoland Day celebration at the BTC Secretariat field, Kokrajhar said that a series of new development projects have been chalked out for Bodoland Territorial Area District (BTAD).
Addressing a mammoth gathering at a public meeting held on the occasion of the 10th Bodoland Day at BTC Secretariat field, Dr Sarma assured the people of BTC that the work for setting up a medical college in Kokrajhar will be started very soon this year, while an engineering college and a polytechnic will be opened in Udalguri district this year itself.
Dr Sarma also said that those who have got seats in IIT and NIT will be given financial support from the Government of Assam and he appealed to the BTC authority to support those who shine in the field of education. He also said that the tangle between the NDFB and the Government is going to be shortly resolved as the peace talks are progressing in the right direction. He further said that there should be peaceful coexistence across castes and communities in Bodolandfor the overall development of the area so as to ensure that the rights of the people in general remain protected.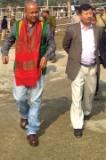 Later, talking to members of the media fraternity, Dr Sarma informed that 120 posts of teachers had been transferred to Bodoland University to enable it to function as a full-fledged university shortly.
Speaking on the occasion, BTC Chief Hagrama Mohilary said that the BTC is going to launch Bodoland Vikash Yojana very soon in the BTC area like the Assam Vikash Yajana introduced in the state by the Government. Under the Bodland Vikash Yojana, the BTC Government will provide 200 Winger vehicles at a subsidy of 50 per cent to the educated unemployed youth in Bodoland.
Meanwhile, many awards were also distributed to distinguished persons for their excellence in various fields.
Earlier, the BTC chief received a guard of honour and hoisted the National Flag. Various departments also displayed tableaus showcasing cultural heritage.