A STEP BACKWARD TO FAME
Assam youth walks backwards for 24 hours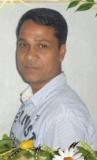 A few months after Abhijit Baruah of Jorhat entered the Guinness World Records by running for 24 hours at a stretch, Babu Purohottam Das alias Aswini Das, a Nalbari youth also attempted to enter the world record book on May 6th. The boy who hails from a poor family of remote Niz Tapa village completed 24 hours of walking backward through Belsor, Singimari, Chamata, Nalbari, Kalitakuchi, Daulashal and Rampur areas of the district.During this journey, though Babu Purushottam had initially planned to walk a distance of 90 km, he overshot his goal and ended up completing 127 kilometers. He walked backward 6 kilometers per hour. Thousands of his fellow villagers and people from the adjoining areas gathered at his village on May 6 and 7 to convey their good wishes when he started and ended his journey. While talking to this correspondent, Purushuttam said that till date no record of walking backward has been set in the Guinness World Records. He added that earlier, he arrived at Raj Bhawan from his house on November 20th on foot demanding a Bharat Ratna to late Dr Bhupen Hazarika. "I started my rehearsal to do this at the bank of the pond situated behind our home," he added. Babu Purohottam Das alias Aswini Das stated that his guru (master) Mridul Bhuyan of Jorhat and his well wishers gave him a lot of faith to walk backward. "I think that through self-confidence even the seemingly impossible may be possible," he said. Babu Purohottam Das further stated that now he plans to cycle to New Delhi from Nalbari as soon as possible.
Several local organizations and the citizens of Nalbari district expressed their happiness when Babu Purohottam Das alias Aswini Das, 29, the youngest son of Khagendra Nath Das, a resident of Niz Tapa village in Nalbari completed his adventurous journey. Das who hails from Niz Tapa village under Belsor Police Station in Nalbari district started his backward walk on May 6th from Bari-Tapa-Thutikata Milan Bazar premises, far away from his native home and completed his journey at Amayapur village near Nalbari on May 7th. A welcome function was organized at Amayapur village on May 7th when his journey ended. Lalit Chandra Gogoi, DC, Nalbari attended the meeting as the guest of honor. All the dignitaries welcomed Das and while welcoming the youth, the DC of Nalbari said that he would take needful action to send his record of walking backwards to the Guinness world record authority for their consideration. On that very evening, another felicitation meeting was organized by the Nalbari District Students' Union for Das. The president of Nalbari District unit of the AASU Himan Barman appreciated his effort.
In a related event, Gyanjyoti Saikia, a 15-year old boy of Hejarigaon, West Jorhat performed an astounding feat by blowing fire from his mouth for 67 times, within a duration of 40.79 seconds, at the West Jorhat Sports Association's playground, to set a new record in the India Book of Records on May 20th. Flames spouted out of his mouth as he let out the inflammable kerosene from his mouth for 67 times. Even after the performance, the boy was quite normal. He informed that his skin was immune to fire. A student of class IX, Gyanjyoti said that he earlier used to practice this feat away from the eyes of his parents and elders but as he discovered that his skin remained unharmed, he informed his elders. His parents too were eager to see their son setting a record through his unique skill. Abhijit Baruah, the observer of India Book of Records for the north east region said that the documents and evidence of both the two performers will be sent to the authority of the India Book of Records for their consideration as to whether this will receive recognition or not.
Neelim Akash Kashyap