SBI CORPORATE SOCIAL RESPONSIBILITY ATTAINING NEW HEIGHTS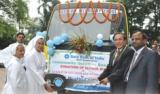 State Bank of India (SBI) Chairman Pratip Choudhury was recently at Shillong to grace the Community Service Banking donation programme of the SBI held at the city on the 19th of June 2012.
Talking about SBI, Mr. Choudhury said that 1 percent of the bank's annual profit will be spent towards Corporate Social Responisbility (CSR) activities. He stated that the SBI with 92 branches spread across Meghalaya have registered a deposit of Rs 4300 crore while overall the SBI has registered an annual profit of Rs 11,700 crore this year in the country, one percent of which will be spent towards CSR activities.
In line with this, the Chairman of SBI donated a cold storage worth 7 lakhs to the Ri Bhoi Strawberry Growers' Association, an ambulance to Tura Christian Hospital and essential furniture and medical aids worth Rs 1.70 lakh to inmates of Fernando Speech and Hearing Centre on the 19th of June.
Speaking about the credit scenario of the bank, Mr. Chowdhury said that an amount of Rs 370 crores has been extended to a total of 12,800 people under home loans while under agri – credit,Rs 38 crores was involved in providing the 'Kissan Credit Cards' to more than 7800 farmers. Mr. Choudhury added that "While on agricultural loans the bank has extended Rs 147 crores and for educational loans Rs 976 students have received Rs 25 crore besides the Rs 650 crore which has been given on the personal segment."
With regard to extending banking services to the rural areas of the state, Mr. Choudhury said, "Directions have been given to officials in the 31 branches established in the rural areas of the state on the need to include more mobile vans to reach out to the people and adhere strictly to the specific dates to enable farmers to avail the services." He added that at present, only two mobile vans are in service in the state. Mr. Choudhury stated that SBI will make all efforts to spread its services to the rural areas of the state where banking facilities are yet to reach the common man. It may be noted that the SBI had recently launched the Bank on Wheels scheme to provide financial transaction facilities to the people from the internal areas of the state. Mr. Choudhury said, "We will incorporate 10 more vehicles under this scheme so that more villages will be covered."
Regarding international trade with Bangladesh, the Chairman of SBI said that the bank is willing to open more exchange points with improved business and as of now, SBI is the only bank to have branches in Bangladesh. "We have four in Bangladesh and settlement of trade can be taken up through our Bangladesh branches," he said. He also informed that 3 lakh worth of takkas to rupees is exchanged through each of the recently opened border haats in the state every weekday.