MIND OVER THE MOOLAH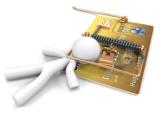 Much has been said and little done about the ongoing financial crisis gripping the nation. The value of our currency has been pitted at an all time low against the dollar, a dearth of funds is plaguing the government institutions and paranoia among the common man is rife; the fear of an ensuing recession in the global economy is being debated by the commoner and the economic experts alike.
The onslaught of the scare among people has given rise to a fresh new wave of the blame game, with almost everyone trying to blame the other group for this situation. The common man has resorted to his perennial refuge of blaming the government and its policies. Add to that, the uproar about black money of politicos being stashed in Swiss banks, and people's rage knows no bounds. But, true however the accusations may be, a little bit of the responsibility lies on us just as well.
Indians, historically, have never been spendthrifts by habit. Unlike our American or European counterparts, our parents have believed in saving first and spending next and duly passed on the knowledge to their children. Things, however, have changed quite a lot post the liberalization period in the country. With the advent of new foreign giants in the market, from manufacturers of cars to cola vendors, the Indian consumer today is spoilt with choices for things he needs as well as those that are merely attractive lures. Temptations, if they were difficult to resist earlier are easier to give in to now, courtesy the aggressive assault of the collaboration of banking firms and manufacturers of merchandise. The buy-now-pay-later phenomenon is to be blamed for this. Reports say that the use of credit cards to make purchases in India is at an all time high with also a soar in the number of users who make use of this facility. Though not as high as the number of credit card users in the US, where an average household owns up to 11 credit cards, the number of credit card owners has steeply gone up in the country in recent years until a clean-up operation by the issuers of late. But even then, the amounts spend by consumers through credit cards have seen an abrupt rise. Statistics say that total card spending which was Rs 7,055 crore in the month of April 2011 has risen to Rs 8,867 crore in January 2012. The psyche of credit card expenditure is one notorious black hole that mysteriously sucks away the earnings of the ordinary layman. Almost everyone, who has acquired a credit card has perhaps never told himself that he is going to use it to buy things he wants but can't afford right away. And yet the card ends up being used exactly that way. To pay for exorbitant instant sense gratifications, while deluding oneself into believing that the later savings will make up for the extravagance which only ends up into giving way to another such pursuit. And the pile of debt of credit card expenditures mounts up, adding financial woes in the form of hefty interest rates and payable bills.
Another such treacherous trap designed to make the average consumer fall into goes by the name of equal monthly installments (EMIs) and down payments. You don't have enough cash to pay for the Rs 15, 000 phone you want? Well, you can pay 'only' Rs 2000 now and pay the remaining in installments of Rs 2200 over the next 6 months. The nefarious design makes sure that we almost always skip noticing the penalty associated with this benefit, the extra cost of paying later, called interest or it's overshadowed by the elation of being able to grab something as soon as we want, even though we can not actually afford it.
If things weren't bad already, our own minds deceive us even more than the lending banks and market top guns. As explained by neuroscientist cum author Jonah Lehrer, in his book 'The Decisive Moment', the human mind is more averse to spending money if they deal with cash instead of plastic money. Hence, we tend to be more extravagant when we make transactions with credit cards and we don't perceive the loss of money as we would have done if it were currency notes that we had to give away. The banking institutions know and use this psychology to their maximum benefit and further lure the consumers by collaborating with retailers and spoiling the consumer with benefits and freebies so that they end up buying even more. Not in a very different way, buying with down payments make us perceive lesser loss, the amount which we pay instantly and we tend to ignore the payments later on.
Financial experts say that bad debts have been a major cause behind the recession of 2008 through which many financial institutions lost money and later had to be bailed out by the government at the taxpayers' expense. A bad debt is the amounts of money that was supposed to be collected by businesses but couldn't be. Hence, they were written off as expenditures. A major chunk of this bad debt came from mortgages of loans that became non-collectible, credit card frauds and undervalued mortgages for higher valued loans. Coupled with that, the decline in the habit of savings had deteriorated matters further in times of financial distress. Learning from their mistakes, industry experts and banks have changed their policies in many ways regarding loans, credit cards and mortgages. It's time individuals take a cue and do the same, as was pointed out by legendary investor, Warren Buffet who reckons that spending money one doesn't have can only lead to financial ruin. At times, it is our mind that wants to rule our logical senses and spend all the moolah. But it's only intelligible on our part to save some for a rainy day rather than put the entire blame on governments and foreign economies. Recent history has only been proof of the fact that a part of our recklessness with our own money is also responsible for snowballing into our own debacle.
By Saptadip Saha