Gandhiji's Historic Visit to Silchar
It is not known to many that Mahatma Gandhi visited Silchar and left many indelible impressions of the sojourn.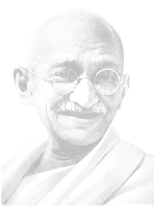 It was on August 27 and 28, 1921 that Gandhi stayed in the town amidst hectic activities. He was accorded tumultuous ovations by people of Cachar in general. It was a visit which was quite unexpected. It was the time when movement for partition of Bengal was at its peak. Except Bipin Chandra Paul, no leader of eminence came to Cachar. The leaders confined their visits to Sylhet only. Surendra Nath Bandopadhyay and Chitta Ranjan Das's visits here were personal in nature.
The visit of Gandhi did create great ripples in the political and social life of Silchar. It was possible only because of the town being the native place of the eminent leader, Kamini Kumar Chanda who had very close and cordial relations with the top personalities of Congress.
According to records, Gandhiji came to Assam to spread his message of disobedience movement. After visiting Guwahati, Tejpur, Nagaon, Jorhat and Dibrugarh, he came to Silchar by train.
The story of Gandiji's sojourn to Assam was well recorded by his companion Krishna Das in his memoirs 'Seven Months with Mahatma'. Without this memoir nothing could be known about his visit here. On receiving the message about his tour of Silchar, the divisional commissioner of the time wrote to Kamini Kumar Chanda to advise Gandiji not to come here in view of the prevailing political situation.
Ignoring the advice as conveyed, Gandhiji accompanied by Seth Yamunalal Bajaj, Moulvi Mohammed Ali, Begum Mahammed Ali and Maulana Azad Shovani came to Silchar on August 27, 1921. It is significant to add that along with his disobedience movement, he had tagged it with Khilafat movement. There was no special arrangement for the train journey of Gandhiji. He came in ordinary compartment. He reached Lumding at midnight from Dibrugarh and the connecting train to Silchar had already left. The three compartments allotted to him and his companions were attached to a goods train.
On the way to Badrapur through hills section, people at each railway station came from the villages even at night to see Gandhiji. It was a experience that could hardly be described, wrote Krishna Das. After dusk, the train reached Badarpur where people had gathered in large number to welcome him. A public meeting was arranged near the railway station where Gandhiji addressing them said "all of us have to be ready for greater struggle for freedom". At railway stations, Gandhiji as he was moving to Silchar got tremendous and overwhelming reception from people of all sections of society. Many among the crowd sang in chorus patriotic songs.
When Gandjhiji reached Silchar, it was ten at night. Here too people had turned up in large number to welcome him. He stayed in the house of Kamini Kumar Chanda. Despite all the exhaustion, he was seen enjoying with children, perhaps to forget the stresses and strains. His stay in Silchar became memorable. As Kamini Kumar had been in Calcutta for treatment, his son Arun Kumar Chanda took care of Gandhiji. Krishna Das mentions how Gandhiji was moved by the polite and gentle manners of Arun Kumar Chanda.
With the break of dawn, people in groups started trickling in the house of Kamini Kumar Chanda. They came from towns, villages and tea gardens to have a darshan of the great leader of political sagacity and humanity. In order to manage the surging crowd, volunteers had taken position outside Chanda Bhawan. Some of the European managers of tea gardens could not resist the temptation of meeting Gandhiji, but they could not due to obvious reasons. It is recorded that they did meet him in a most clandestine manner.
The programme of significance was a public meeting at Fatak Bazar at the central part of this town. Those who attended the meeting and heard his speech were not very much touched. There was neither emotion nor passion in what he said. It was a short speech in Hindi. In contrast, the speech of Mohammed Ali was quite exciting and emotional. The Silchar Municipal Board had kept the place well protected where Gandiji had delivered his speech. Sadly, the contents of his historic speech could not be traced and remain shrouded.
J.L. Chowdhury