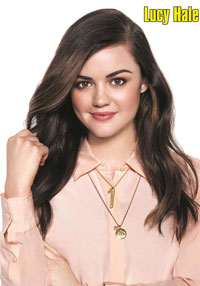 Lucy Hale
Lucy Kate Hale is an American actress and singer and was one of five winners of the reality show American Juniors. She is best known for her role as Aria Montgomery on the ABC Family series Pretty Little Liars. She released her debut single, "You Sound Good to Me", in January 2014.
Hale has an older sister Maggie who is a teacher and a step-brother Wes and was homeschooled. During her childhood, she took acting and singing lessons.
Hale described music as her "first love". Her early musical influences were Shania Twain and Faith Hill, but what ignited her interest in pursuing music was Britney Spears' "...Baby One More Time". She also listened to Dixie Chicks. She recorded songs for A Cinderella Story: Once Upon a Song.
On June 12, 2012, it was announced that she had signed a record deal with Hollywood Records. Recording was set to begin later in 2012 with a single and a country album due in 2013. Kristian Bush of country band Sugarland said: "She sounds like Carrie Underwood — strong with a blues side and a pop side to it. And a lot like Faith Hill." Hale's debut single "You Sound Good to Me" was released on January 7, 2014, with her debut album to follow later in the year. The song's accompanying music video was directed by Philip Andelman. On February 18, 2014 it was announced that the album would be called "Road Between" and that it would be released on June 3, 2014.