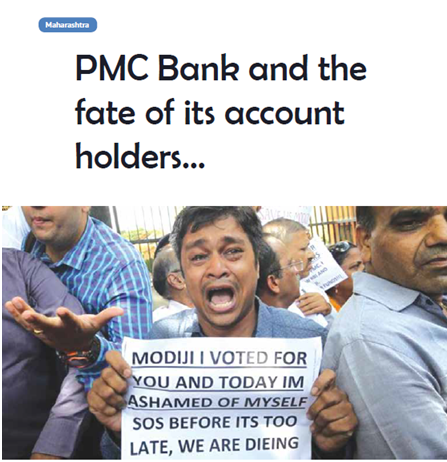 PMC Bank and the fate of its account holders…
Enforcement Directorate or ED has identified and recovered movable and immovable properties and assets worth Rs 3830 Crore owned by HDIL and its promoters /directors of PMC.
Who are the Promoters of HDIL?
The promoter of HDIL is the former chairman of PMC Banks and rest is the scam.
Punjab and Maharashtra Co-operative Bank, PMC bank, fewer people are aware of this bank in the eastern part of country. The cooperative banks are formulated for the social welfare of society, not for profit maximization, the ideology behind creating a co-operative bank.
PMC bank is the largest urban cooperative bank to be placed under the RBI watch since 2001. PMC bank was founded in the year 1984 in a single room from a single branch currently the bank touched 137 branches across six states Maharashtra, Delhi, Karnataka, Goa, Gujarat, Andhra Pradesh, and Madhya Pradesh.
What went wrong for such a bank which started with a modest outlook?
Add a comment
Read more: PMC Bank and the fate of its account holders…