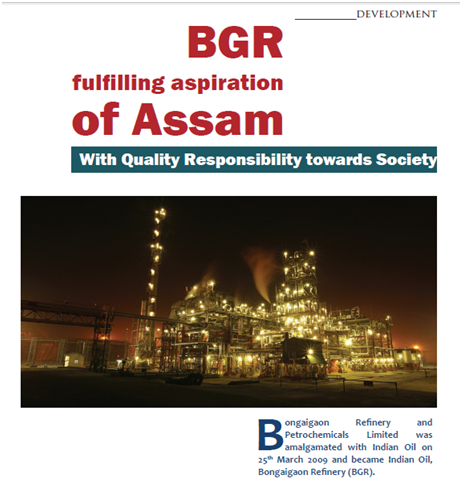 BGR is the eighth largest refinery of Indian Oil Bongaigaon Refinery of Indian Oil Corporation Ltd. is considered as a lifeline for many who have been directly or indirectly engaged for their livelihood particularly from the neighbouring districts. This is the only major industry in Lower Assam giving avenues for direct; indirect employment and contributing towards growth and development of the under developed part of Assam.
The refinery has a uniqueness of its own with an existence of over 45 long years. BGR, serving the energy needs of the state along with the rest of the nation is located amidst spectacular beauty in the Chirang district of BTC, Assam.
In an informal discussion with Associate Editor of Eastern Panorama, Bijoy Kumar Sharma at Manas Guest House in BGR Township, Chief General Manager (In-Charge) of Bongaigaon Refinery, Mr. Gopal Chandra Sikder apprised BGR's contribution in nation building by meeting and fulfilling people's hopes and aspiration with a commitment on Corporate Social Responsibility Schemes.
Bongaigaon Refinery is the only largest industry in lower Assam and is one of the 12 refineries of Indian Oil.
The processing capacity of Bongaigaon Refinery (BGR) is 2.35 MMTPA of Crude Oil with a plan to increase its capacity to 4.5 MMTPA. It comprises two Crude Distillation Units (CDU), two Delayed Coker Units (DCU), DHDT unit including HGU; SRU and CRU/MSQ units.
The first CDU with a capacity of 1 MMTPA was commissioned in the year 1979. The capacity was further increased to 1.35 MMTPA in 1986. An LPG Bottling Plant with a capacity of 44,000 MTPA was also commissioned in the year 2003. Further two projects, Indmax Project and BS VI is under implementation which will comply BS VI fuel norms. Further with Hydrocarbon Vision 2030 BGR is gearing up to increase its production to meet the Fuel demand of the nation.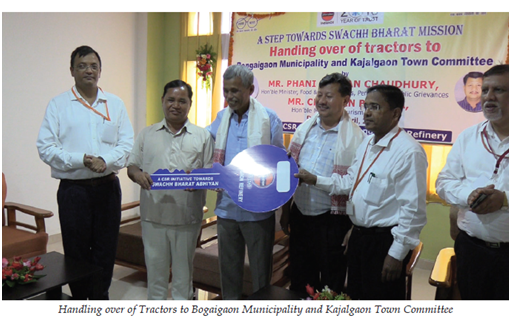 Presently, BGR produces a wide range of petroleum products namely LPG, Naphtha, MS, SKO, ATF, HSD, LDO, LVFO/FO, RPC & Sulphur by processing Imported and Assam Crude. Bongaigaon Refinery (BGR) is committed to achieving excellence in product quality and customer satisfaction by meeting customer requirement and striving for continuous improvements in quality of products.
Bongaigaon refinery has been maintaining quality standards of its products; services in line with ISO 9001 (ISO 9002:1994 in 1998 and ISO 9001:2015 at present) till today. Quality Management System (QMS) as per ISO 9001 was also implemented in the Security System of CISF unit of BGR in 2005; being monitored (ISO 9001:2015 at present) till date.
Quality Control laboratory of BGR is accredited in accordance with the International Standard ISO / IEC 17025:2005 by National Accreditation Board for Testing and Calibration Laboratories (NABL), (A Constituent Board of Quality Council of India), Government of India in the discipline of Chemical Testing.
The Certification of Accreditation covers full range of Test parameters of ATF as required by DGAQA, in addition to other Test parameters of Petroleum Products, Water and Waste Water.
Bongaigaon Refinery has been conferred with Excellence in consistence TPM commitment awards by Japan institute of plant maintenance (JIPM), Japan for its excellence in consistence TPM commitment level. Bongaigaon is also the first business entity in India to have successfully implemented the International Sustainability Rating System (ISRS); 8th Edition on 18th Nov2011.
ISRS-8th edition is an integrated version of the process safety management and includes updates to reflect changes in international standards including OHSAS 180001, ISO14001, ISO 9001 and Global Reporting Initiative (GRI) -2006. In 2013, during the ISRS 8th Edition PSM Follow-up Assessment in 2013, INDIAN OIL- BGR achieved LEVEL 8 and was among the top 5 Refineries in the world to achieve this extraordinary level in ISRS 8th Edition, PSM protocol.
In recognition to the outstanding performance of Industrial Safety, Bongaigaon Refinery has been bestowed with the prestigious National Safety Awards; consecutively for several years for achieving the Lowest Average Frequency rate and Accident Free Year. BGR has also received the prestigious International Safety Award 2017 from the British Safety Council.
Bongaigaon Refinery received SHRESHTHA SURAKSHA PURASKAR (Silver Trophy Certificate) in Group- A under Manufacturing Sector Awards for the Award Year 2016. The award was presented by Honble Minister of State (Independent Charge) Labour and Employment, Government of India, Shri Bandaru Dattatreya on 20th April17.
Bongaigaon Refinery was awarded the Jawaharlal Nehru Centenary Award for Energy performance of Refineries: 2015-16 for Best Improvement in Specific Energy Consumption (MBN) over the previous year. The award was presented by Shri Dharmendra Pradhan, Honble MoPNG .
Bongaigaon Refinery received most Improved Refinery of The Year-2016; award on 8th Aug from FIPI (Federation of Indian Petroleum Industry).
Bongaigaon Refinery was awarded (Second Prize) the National Energy Conservation Award 2017 for the performance year 2017 by Bureau of Energy Efficiency, Government of India and Minister of Power. Bongaigaon Refinery was awarded the OGCF Award 2017 for Steam Leak Improvement for the performance year 2016-17 by Centre for High Technology, Ministry of Petroleum. Natural Gas Government of India, Shri Dharmendra Pradhan, Hon'ble MoP; NG (Independent Charge) at the Refining; Petroleum Technology Meet on 13th Jan 19 at Bhubaneswar, Odisha.
Bongaigaon Refinery has taken various environment management initiatives such as development of 'Ecological Park' inside the Refinery premises, 'Parivesh Udyan' as natural pond and 'Nandan Kanan' as Herbal and Orchid Garden. Bongaigaon Refinery has a unique way of treating Industrial Storm water in natural way which is one of its many innovative eco-initiatives.
For the socio-economic upliftment of the neighbourhood, Bongaigaon refinery has been implementing Corporate Social Responsibility Schemes in accordance with the CSR policy of Indian Oil and compliance to the provisions of Company's Act 2013.
Bongaigaon Refinery is extending assistance in building and renovating educational institutions, encouraging women empowerment, scholarship to deserving students, improving community health and drinking water facilities, promoting sports, culture and entrepreneurship and skill development etc.
Bijoy Kumar Sharma
To read the further article please get your copy of Eastern Panorama February issue @http://www.magzter.com/IN/Hill-Publications/Eastern-Panorama/News/ or mail to contact @easternpanorama.in