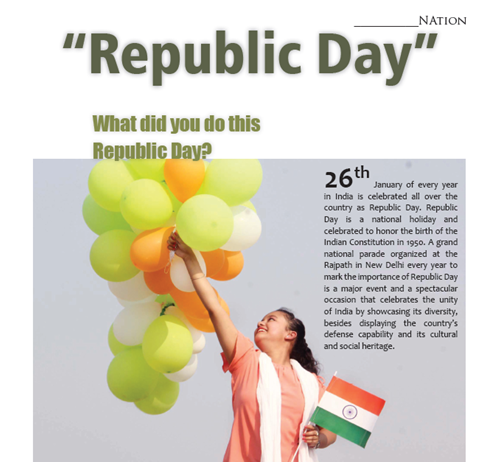 26th January of every year in India is celebrated all over the country as Republic Day. Republic Day is a national holiday and celebrated to honor the birth of the Indian Constitution in 1950. A grand national parade organized at the Rajpath in New Delhi every year to mark the importance of Republic Day is a major event and a spectacular occasion that celebrates the unity of India by showcasing its diversity, besides displaying the country's defense capability and its cultural and social heritage. Most important people on this day unfurl the National Flag and chant the National Anthem followed by the rendering of an emphatic salute demonstrating their love and devotion towards their country. This is usually also followed by a celebratory parade and refreshments.
The festive mood is ubiquitous in offices, schools and college campuses. However, what significance does this day hold for the common public. How do we honor the memory and legacy of the forefathers of our great nation? How do we express their love and devotion towards their country? How do we celebrate Republic Day?
India is home to a billion people, who speak a variety of language; have different cultural, historical and religious identity and who share physical and structural similarities more with people of the neighboring countries than with the people of their own. Therefore, to expect one answer from this varied group of citizens for the above mentioned question would be rather a foolish endeavor. Also the lack of awareness about the historical events that led to the celebration of this day is not entirely unforgiveable. We cannot claim to know the reasons why all festivals are celebrated yet this does not take away anything from the celebration of these festivals. So, although most people might not have a detailed knowledge about or a profound appreciation for the efforts and struggles that the forefathers of our great nation underwent in order to gift us the free present, most might not even the most rudiment of knowledge about the prodigious document that governs the country, yet all do realize the significance of this red letter day and hence any way of celebrating this day is valid and must be appreciated.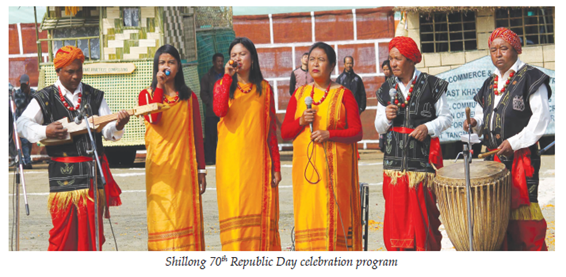 India has come a long way since the framing of the constitution. Indians or rather India has achieved tremendous feats throughout the previous year. From the amazing performance at the Asiad to the incredible mission to Mars, India has made a mark for itself and shown the rest of the world its true potential. However, this cannot veil the equally incredible but entirely horrific things that have headlined the national newspapers on a regular basis throughout the year. We might cherish and celebrate the success of a few hard-working individuals who call this country their home, but the heinous crimes committed by the residents of this very country bend our head in sheer disgust. And I am afraid the scale may tilt a little too heavy towards the latter. It seems to me that as long as shows like Crime Patrol and Savdhaan India do not run out of material, we have not attained real success. One may choose to ignore, as most citizens are bound to, the shortcomings of the country and fixate only on the success stories. And perhaps this is the problem. Perhaps celebration and rejoicing ought to be coupled with reflection and resolution. But what should one reflect upon? One might ask. Well, one ought not reflect or lament over the current state of affairs but rather upon oneself and one's actions. The true development of country begins with the development of its people. Change rarely begins with collective action but instead with individual effort. Before one gets all worked up, I must however admit that most might not have to change much for they could already be on the right path.
Most people I know begin their day by watching the parade on their television screens followed by a series of movies that exalt an exaggerated sense of patriotism happily broadcasted by the plethora of tv channels. Some choose to let go of the comfort of their homes and take a quite vigorous route and go for picnics with their friends and families. Some do what they usually do on holidays while others simply relax. A few even see it as a day to consume alcohol that must be bought on the eve owing to it being a 'dry day'. Why not? After all freedom is a situational concept and does not have a single definition. In addition, there might be further ways in which people choose to spend their Republic day, which, if I choose to write about, might fill an entire volume and therefore is best to avoid.
Rajiv Laloo
To read the further article please get your copy of Eastern Panorama February issue @http://www.magzter.com/IN/Hill-Publications/Eastern-Panorama/News/ or mail to contact @easternpanorama.in