Reflection On Paintings Of Rabindranath Tagore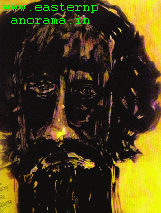 Rabindranath Tagore started painting in 1924 at the prime age of 63 though long before this, an element of effort could be noticed in the various corrections and doodles in his manuscripts particularly during the penning of 'purabi' which was noticed with amazement and admiration by none other than Victoria Ocampo during Tagore's visit to Buenos Aires in 1924. She arranged the first exhibition of Tagore's paintings in Paris in May 1930. Later the exhibitions moved to other famous destinations in Europe and America – in Birmingham, London, Berlin, Munich, Dresden, Copenhagen, Geneva, Moscow, Boston, New York and finally Phillidelphia in May 1931.
Europe and USA recognised the strength and style of Tagore's painting and welcomed them with immense praise. Tagore, understandably, was exhilarated as this warm reception provided him with the confidence he was looking for. He wrote to his son Rathindranath on 31.10.1930 saying, "From my experience of my painting exhibitions in Europe, I realise, I can rely on my ability on painting." He also wrote to Pratimadevi his daughter – in – law in 1930 saying, "My paintings command decent prices and it will increase in the coming years." He felt immensely pleased when the Berlin National Gallery procured five of his paintings.
The drawings of Rabindranath Tagore proved that the poet, though a master in the use of words, felt that certain things can be better expressed, or perhaps only expressed in the language of line, tone and colour.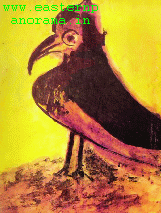 It will be interesting to note the observations of various critics during the exhibitions of his paintings abroad some of which are enumerated below:

"It is impossible to apply the ordinary standards of artistic criticism to the drawings by Rabindranath Tagore on the exhibition at the Birmingham City Art Gallery. Their classification according to the date of their production – the whole falls within the last three years – is a sufficient indication of the fact that they are intended to be regarded as evidence of the evolution of the poet's mind, as a new means of self expression, rather than as a progressive development of technique."
"… Some of these (paintings) are of astounding Power, their very deep tones and wonderfully harmonious sequence produce exactly the same effect of rhythm as that which is to be observed in purely linear work, and we might sum up the whole of this exhibition as being a marvelous example of the sense of balance and of harmony, even in the most fortuitous of its forms." – Kainer Smith in 'The Birmingham Mail'
The report on Tagore's painting exhibition at Charlottenburg in 1930 states – "The impression one gets when one today is passing through the galleries at Charlottenburg where Tagore's pictures are exhibited is something out of the ordinary.
The Indian poet draws more than he paints. He uses ink, Indian ink and water – colours, and he has developed a special technique. He uses he pen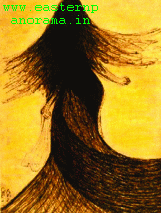 normally and with the back side and also his fingers. Only recently has this poet – thinker ventured to enter into the field of painting. He thinks himself that he has reached the rhythm of the lines through the rhythm of thoughts and music. And he says, "My pictures are verses in lines."
"… In this exhibition there are elements which remind us about things from Egyptian monuments, from modern Greek Graphic art, from Japanese wood cuts, from English water – colour paintings and from primitive decorative art. There are elements which possess certain likenesses to the antique orient and elements which remind us about the Scandinavian Drake style and the Gaugin Exotism."
The German papers were also equally generous in their expressions on Tagore's paintings. The Muenchener Telegram, Zeitung wrote on 23.07.30 – "The poet calls his paintings 'Verses in Line'. He also announces that for him the rhythmic form is the important one. Looked at from these points of view, the spectator experiences a feeling of contact in these paintings which are most interesting in that they venture along the road of modern European aspirations.
The abundance of subjects and not less the multiplicity of the technical experiments are surprising. The dominating black ink lines divide the coloured washes of colour, which in most cases themselves form decorative patterns. Then the oriental, the Indian mystic breaks through – with his fascinating birds and strange animals of legend finally cut in arabesque and the masks representing in manifold form the human face."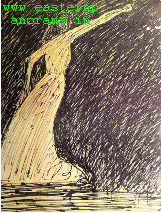 On Tagore's paintings, Ananda K Coomarswamy who was than at the Museum of Fine Arts, Boston wrote – "An exhibition of drawings by Rabindranath Tagore is of particular interest because it puts before us, almost for the first time, genuine examples of modern primitive art. One may well wonder how those artists and critics who have so long striven for and praised the more calculated primitivisms, archaisms, and pseudo – barbarisms of European origin will respond; will they admire the real thing?"
Stella Kramirisch wrote – 'Training of the hand is one thing, guidance by the spirit another. The work of Rabindranath Tagore, singularly free from conventions and schooling, is subject to a discipline of its own. It does not stop short at design and composition. Each of the hundreds of drawings and paintings is a living and balanced artistic organism. But it is so thorough that it even discovers motives of its own and invents a suitable technique that in its simplicity affords possibilities hitherto unsuspected by professional artists.
That Rabindranath Tagore is a great poet, may stand in the way of acknowledging him as a great artist. But few, since time immemorial, were the masters who gave dynamic form to their most personal vision. If this vision has for its background the depth of the poet's mind, it is not difficult to know what place his work occupies in the world of art'.
(Ref. : Paintings by Rabindranath Tagore – Foreign Comments).
We feel this is the ultimate assessment and tribute to Tagore's paintings one can make.
The painter in Tagore laid dormant since his childhood. In his autobiography and in letters from Silaidaha (Now in Bangladesh) there are sporadic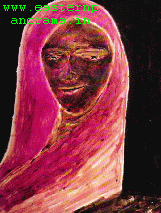 references of his initial efforts in drawings and paintings. In 1892 he has mentioned this effort in a letter to his friend and famous scientist Acharya Jagadish Chandra Bose.
During the period of his adolescence, in manuscripts of 'Malati Punthi' (1878) and 'Pocket Book' (1889) there were many designs in the doodles. Those were probably not conscious efforts but were made in a lighter mood. Later, when he was in total indulgence with paintings it was not easy to find out any particular known idioms. As he was entirely self educated, his paintings and sketches reflected his matured idealism, experience and subconscious thoughts. However, in a conscious effort, he made a sketch of his wife as far back as 1909, which he showed to the then young Artist Mukul Dey. Tagore had a sketch book bound in black leather.
Nandalal Bose, the eminent Artist in Santiniketan during Tagore's tenure, wrote – 'There are three major factors in Tagore's paintings – rhythm, balance and indulgence. These qualities he acquired during his vast period of writing poems and songs.'
Rabindranath was modest about his expressions on his own paintings. He told Jamini Roy – 'I have no formal training in any school of art. Maybe my paintings are not complete in the sense they should have been'. But Jamini Roy was in all praise on his paintings – 'I adore Tagore's paintings for their inner strength, their inherent rhythm and for the reflection of an artistic beauty.'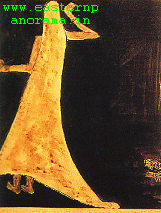 During corrections in the manuscripts of 'Raktakarabi' strange bird and animal figures with a prehistoric touch were emerging out of the doodles. They bore no resemblance to the present species as if they have come from an unknown world.
Like his unique style he was free and open minded in selecting the medium for his paintings. He used black lead pencils, colour pencils, pastel colour, coloured ink, water colours and colours extracted from some leaves and flowers. He made paintings very fast mostly in one sitting. While drawing, he made use of the pen, brush, fingertips and even the sleeves of his loose garments which ever used to come in handy at the moment. Morning to noon was his favourite time for painting and as he felt that the painting should dry fast, the oil medium was not up to his liking as it takes a lot of time to dry.
Golden yellow was Tagore's favorite colour as it is the colour that resembles the golden rice fields of autumn, for which Tagore has an appreciative space in his mindset. Dark chocolate and black also have been profusely used in many of his paintings. He admitted that he was colour blind on red and green – the colours he sparsely used.
He has drawn several female portraits which have sad and disturbed looks. Once he told Nandalal Bose that while drawing the female face he is reminded of his sister-in-law Kadambari Devi. He has also drawn several self portraits and here, of course, he tried to avoid distortions and made these as close to the real as possible.
Among the six 'Rasas', Rabindranath mainly used ideas based on 'Laughter', 'Queer' and 'Pathos' in his paints, the other 'Rasas' namely – 'Passion' , 'valorous' and 'quite' were seldomly depicted.
Rabindranath is the pioneer of modern painting in India but during the early years of his paintings the response from his countrymen was lukewarm.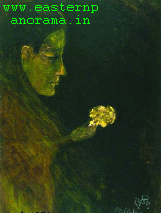 He was touchy on this point and decided not to exhibit his paintings in India. Of course, after they won accolades in foreign lands, the local critics started taking interest in his paintings and an exhibition was held in Calcutta in 1932.
Like in his writings, he had an international outlook in his paintings. Long before Van Gogh. Picasso and Matisse became famous, he knew about their work and enquired about their paintings during his Europe visit in 1924. So it is no surprise that later his paintings could touch the international chord and the Russians and Germans found some similarity in his style with their own master painters.
Regarding his art and the artist in him, Tagore says, "… One thing which is common to all arts is the principle of rhythm which transforms inert materials into living creations. My instinct for it and my training in its use led me to know that lines and colours in art are no carriers of information; they seek their rhythmic incarnation in pictures. Their ultimate purpose is not to illustrate or to copy some outer fact or inner vision, but to evolve a harmonious wholeness which finds its passage through our eyesight into imagination. It neither questions our mind for meaning nor burdens it with unmeaningness, for it is, above all meaning."
Regarding his corrective drawings in his manuscript, he writes – 'I try to make my corrections dance, connect them in a rhythmic relationship and transform accumulation into adornment. This has been my unconscious training in drawings.'
As an artist he placed himself modestly, saying ' … in my case my pictures did not have their origin in trained discipline, in tradition and deliberate attempt at illustration, but in my instinct for rhythm, my pleasure in harmonious combination of lines and colours'. (July, 1930).
Beginning from 1932, Tagore used opaque colours for rugged texture and sometimes as very sharp highlight, crayons, experimental corrosive inks, fugitive vegetable colours, varnishes of different kinds were playfully applied on any quality of paper at hand, in disregard of the impermanence of the materials. His only known attempt at painting in oils on canvas was abandoned halfway presumably because of the comparative lack of speed of the medium in drying.
In Tagore's paintings, landscapes recurred. The pensive, ovoid face of a woman with large unwavering soulful eyes was perhaps a more obsessive theme than any other. Exhibited first in 1930, endless variations of the same mood-image continued to be emergent throughout.
In Rabindrabhavan at Viswabharati, Santiniketan 1580 Paintings of Rabindranath form part of the Art Museum. The details of the paintings are as follows:-
Subject Nos. of
Paintings
Face study of Male 408
Face study of Female 186
Nature study 58
Self Portrait 9
Portrait 9
Animals 89
Birds 89
Trees 116
Dancing Figures 47
Others 517
In Kalabhavan there are 73 paintings and one sketch book belonging to Rabindranath. A few of his paintings are also available at Rabindrabharati in Kolkata. About 32 paintings are in the collection of the Academy of Fine Arts, Kolkata. Some are also in the possession of the Birla Academy of Culture, Kolkata, National Gallery of Modern Arts, New Delhi, Dirtington Hall, London and in the Museum of Bangladesh. His 13 initial sketches drawn between 1880 and 1886 were procured by Shri Indrakishore Kejriwal.
Not much has been heard about the scientific preservation of Tagore's paintings but some efforts are being made at Viswabharati, at Santiniketan and on Tagore's 150th Birth Anniversary, his painting were published in four volumes under financial assistance from the Government of India. One oil painting by Tagore is also being restored at Rabindrabharati, Kolkata.
Tagore's paintings are big attractions now-a-days. They command high prices in Indian markets and also abroad. In June, 2010 Tagore's painting in Sotheby's auction in London fetched Rs. 2.13 crore. Prices apart, this must be considered as acceptance of Rabindranath Tagore as a painter.
Indrani Sengupta