An Evening of Expression

Airtel promotes Assam's singing sensation –  Mayukh & Laili Hazarika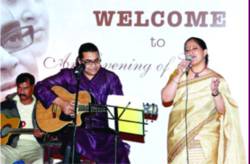 A young singer from Assam, Mayukh  Hazarika, steps gingerly on to the stage with his wife, Laili Hazarika  in presence  of the legendary Axom Ratna, Dr. Bhupen Hazarika, and overwhelms the  audience with his mellifluous voice at the launch of his album, 'Sokue Jodi Kotha Koy' at Hotel Vishwaratna in Guwahati on 5th February 2009. Mayukh a post graduate from IIM, Indore, can be easily mistaken for A.R. Rahman by his disarming smile and charming manner. Born and raised into the Hazarika gharana –– an illustrious family of several gifted artists and doyens of Asom musical world. Having seen and heard his family of musicians, most notably his father and uncle, Dr. Bhupen Hazarika sing and interact while growing up. He lost his father when he was only seven years old. His mother taught him to sing those immortal songs with the same depth of feelings and sincerity that his father once sang and became famous with. "Music when soft voices die, Vibrates in the memory".., wrote Shelly and  Mayukh relived the voice of Jayanta Hazarika once again.
 The soul-touching songs sung by Mayukh and his wife Laili, filled the Guwahati air at their first-ever launch-concert of their  original compositions. An accomplished singer and musician himself, Mayukh has been engaged for the past years in singing cover versions of Jayanta Hazarika's hit songs. Virtues of simplicity and grace that make Mayukh Hazarika, the most enchanting artist of the musical world of Assam, showed up in ample evidence during the launch of his album as he effortlessly and humbly mingled around with those present. 
 The album titled 'Sokue Jodi Kotha Koi' consisting of a string of eight songs starting from "Sokue Jodi" to "Sitore Rati Bur"  depicts lyricist-musician-singer- Mayukh Hazarika's mixed feelings that he had experienced during some of the important turning points of his life. For example, the song "Sokue Jodi" was composed during the loneliness that had crept into the young singer's life after the sad and untimely demise of his father. Some of the other songs in the album are 'Anamika', 'Ritu Ahe Ritu Jae', 'Uri Jowa Pokhi Bure' and 'Prem Jodi Bhool Hoy.' Five music arrangers have enriched and beautified the songs.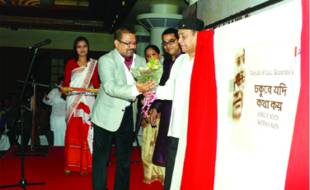 Bharti Airtel, India's leading mobile service provider, had sponsored the release of Mayukh's maiden album 'Sokue Jodi Kotha Koy' at a star studded function in the city where the doyen of Assamese music, Dr Bhupen Hazarika was  present. "An Evening of Expression" was an intimate one with the Hazarika family - Bhupen Hazarika, Mayukh Hazarika and Laili Hazarika along with noted filmmaker Kalpana Lajmi and the elite of Assamese film industry and society such as J.P. Das, Anuradha Sarma Pujari, Mridula Barua, Manjula Hazarika, Saradi Saikia, Malaya Goswami Apurba Bezbaruah, Kapil Bora and  Wasbir Hussain among others present  graced the occasion. The whole environment was very nostalgic, and Mayukh and Laili  mesmerized the audience with their superb renditions of some of their own compositions. 
 The legendary singer Dr. Bhupen Hazarika became nostalgic and recalled the memories of his late younger brother Jayanta Hazarika through Mayukh's compositions. He was full of praise for his nephew and said, "Today I feel as if my brother Jayanta Hazarika is standing beside me. I feel very proud and privileged to be able to launch the music album of Raja (Mayukh) and his charming wife Laili Hazarika."  
Addressing all those present  he said, "You the artists are the messengers of this nation. Your works and creations give us, the common people, inspiration to live. Our beloved Rana (Jayanta Hazarika) has kept us alive through all his creations. Rana's music has touched the hearts of all the emotional and rational people. I wish that Rana's son Mayukh Hazarika's new album will usher a new life to the world of music. I give my blessings to this emerging singer in his journey." 
Reminiscing the young singer's childhood he said, "As a child he had the urge to fly high like a bird in every word and every thing he did. Because of this quality he has been able to move forward in life with his own efforts. I think that no one can stop his huge talents from progressing. His simplicity, honesty combined with his talents will give him fame. His highly emotional and vulnerable songs and words have really touched me. Raja's songs portray social responsibility, reality and scenic beauty and beautiful poetry. His songs speak of humanity. At such a young age Raja has given his contribution to the string of musical compositions composed over the ages. Raja is the artiste of music. He has moved forward without any professional guidance or support other than the encouragement and hard work of his mother, Manisha Hazarika."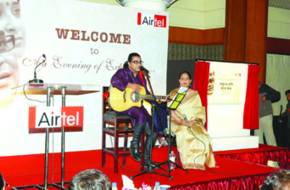 Mayukh Hazarika in his deliberation said, "I got the inspiration to do something creative from my Uncle. In this musical journey I have also got inspiration from my parents. The songs of this album have been inspired from the various experiences and events that I have faced during my journey of life. The songs of the album depict human emotions like happiness, love, social awareness, the turmoils faced while searching for the meaning of life." 
 Sudipto Chowdhury, Chief Operating Officer, Bharti Airtel NESA felicitated Dr Bhupen Hazarika with a phulam gamoosa and  an Endi shawl and said, "Bharti Airtel is providing world class mobile phone service to its customers in Assam and North East. But what humbles us is our efforts towards giving back to our society through the promotion of art, culture, sports and literature in a big way. All through the years of our operations in the State, we have supported the mobile theatre movement in Assam; worked for promotion of cricket, football and adventure sports; stood by the side of the organisers of stage plays, music and dance festivals in different parts of the region. Once more Airtel is delighted to promote two of the most promising artistes of Assam, Mayukh and Laili Hazarika. We are confident that they will be role models for the aspiring young singers of the State.