Rani Gaidinliu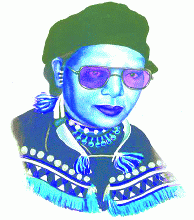 Rani Gaidinliu was a very active participant in the fight for freedom from British rule. Born in Longkao village of Manipur on 26 January, 1915, Rani Gaidinliu was a charismatic girl even at a tender age. She joined the freedom struggle at the age of 13. She led a socio-political movement to drive out the British from Manipur and Naga areas. She was arrested in 1932 at the age of 16 and imprisoned for life. She was freed in 1947 after India gained freedom.
She was greatly influenced by  Haipou Jodonang and after he was arrested and subsequently hanged  by the British, the mantle
fell on Gaidinliu to lead and continue the revolution. She went underground along with her followers.
Pandit Jawaharlal Nehru met her at Shillong Jail in 1937 and he promised to pursue her release. Nehru described Gaidinliu as the daughter of the Hills and gave her the title of "Rani Gaidinliu" or Rani of her people.
She was conferred "Tamrapatra Freedom Fighter Award" in 1972, Padma Bhushan (1981), Vivekananda Seva Award (1983) and she returned to Longkao (Nungao) in 1991 and lived there till she died on 17 February 1993 at the age of 78.