Cancer Cured By a Message From Above?
An 82 year old man, who had been a Cancer patient himself, has recently discovered what he claims to be a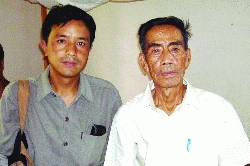 magical cure to various diseases such as cancer, sinus, blood pressure and piles, etc. However the question of whether there will be any side effects of using this medicine still hangs in the air.
Many patients are claiming that a visit to Pu-Chawilien Hmar and drinking his green medicine which is a plant-extract has brought about a marked improvement in their health. Most of the visitors claimed that they have experienced a marked improvement after using it.
Eastern Panorama visited Saikot village in Churachandpur district which is around 70 km south of Imphal in Manipur to meet Pu-Chawilien and spoke to the experts of the Manipur University, who are conducting research of the plant to ascertain the safety health issues, surrounding this latest health development in Manipur.
Chawilien Cancer Medicine Research Agency (CCMRA), in Saikot village in Manipur's Churachandpur district has become the talk of the State. These people, hailing from all over the State have all come here after hearing stories of advanced-stage cancer patients recovering from their ailments by the healing power of the old man Chawilien.
Pu-Chawilien's residence in the sleepy hamlet of Saikot has now been transformed into a bustling township for the last two months as news of his healing powers spread like wildfire, especially among cancer patients. People from all walks of life and religious backgrounds have come to this place seeking a prayer session with him and the magical green medicine made for the plant, known as Ranlung Damdawi (meaning worm medicine) in the local Hmar dialect.
Due to the size of the crowd which has of late been a regular sight at this place, Chawilien has stopped his usual practice of individual prayer session and instead taken up group prayer for recovery every day. After the prayer session his green medicine is distributed free of cost by his volunteers.
Pu Chawilien revealed that he himself had cancer on his right ear. The swelling and the pain was so much that there seemed to be no hope for him. He claims that, 2 years ago, God instructed him to drink the Damdawi plant extract.
After the spread of the news of the improvement of Chawilien's health after drinking the plant extract, many people started storming his Saikot residence to get the medicine.
"I had to drink it as I had full faith on the words of God so I gulp it down. Instantly the aching on my ear stopped. The swelling on my ear took sometime to recede but in just 2 month it was gone completely," claims Chawilien.
Chawilien started giving out his medicine to those who seek it only after God ordered him to, he claims. Outside Chawilien's house rows and rows of people line up to have him pray for them and to receive their share of the green medicine for their ailments ranging from cancer, asthma, piles that Chawilien's healing power is claimed to have cured.
Joseph, media in charge of the CCMRA said," Everyday people from all over Manipur come in thousands for treatment of their ailments; we're helping him with spreading the gospel and in preparing and distributing the medicine." Till mid-June 2 lakhs believers have collected and used the extract of the plant.
The development at Saikot village offers an interesting avenue forthe Associate Prof P Kumar of Ethno botany and Plant Physiology Lab, Manipur University who led a six-member team of scientists to identify the scientific name of the shrub as Croton Caudatus Geiseler in the first week of June. Botanical Survey of India, Shillong has also registered the plant under its Acc No. 96367.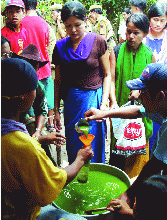 Those scientists who joined the research work include Dr S Padmabati Devi of DST, Delhi, Dr A Pinokiyo of NEHU, Dr Y Nanda Devi,Y Sanatombi,N Deshorjit, all from Manipur University and Y Sandhyarani of CSIR. Interestingly, Chemistry department's Laitonjam Warjeet, who has been behind a number of studies for identification of organic components of medicine plants of the State and his team of research scholars are carrying out investigations to determinate the organic component of the plant.
For the people who have heard of the healing power of Chawilien's medicine, ascertaining the organic components of the plant is immaterial to them. The only thing that matters to them is that - Chawilien's green leaf medicine works on them and cures them.
The magic Damdawi leaves whose components are suppose to be working against cancer unlike any other drug are brought in bulk to Chawilien's place for preparation of the medicine. Every day, 20 sacks of the Damdawi leaves are needed to prepare the medicine to meet the day's requirement.
The leaves are cleaned and twigs are separated after which they are chopped into bits for pounding. After pounding, the leave-juice is filtered and is ready for consumption. All these people are working on voluntary basis with only one thing in mind - Curing the Sick. This becomes amply clear when one learns that no price is fixed for the mug full (200 ml) of medicine provided to each and every one who comes to CCMRA. Visitor like H Basanta of Terakhongsangbi village in Bishnupur district said, "I came here for the second time as the medicine really works." For inter-state bus driver Basanta apart from controlling his blood pressure, the medicine has also reduced his waist from 38 to 34.
Only two donation boxes are placed for people who wish to donate. The agency cannot fix the price for the medicine as Chawilien believe it is God-given. At the same time, as there is a large number of people who come for the medicine, a lot of people are working, day and night on voluntary basis and providing them with food.
While volunteers of Chawilien seek only donations to meet their daily expenses, seeing the hordes of patients coming for the medicine, the small village of Saikot has turned into a bustling township with rows and rows of stalls, selling the green medicine for a price.
For hundreds of families, this is proving to be a good livelihood, as Johnson Hmar (45) one of the cultivators of the village selling the green medicine in plastic bottles indicates. It is miraculous that Saikot could be the answer to a cure for cancer.
Churachandpur has now become a medical hot-spot for the patients of the State. Everyday 5000 to 10,000 people throng CCMRA, some standing in the queue from 4 am in the morning. But what is surprising is that the unprecedented health development in did not attracted the attention of the State Health Department till mid June.
However Head of Radiotherapy Department in the Regional Cancer Centre, RIMS (Imphal) Prof Th Tomcha Singh suggested that State authorities take all necessary measures to prevent fatal consequences.
According to Prof Tomcha, though the miracle plant 'has all the medicinal properties as claimed by the plant's discoverer, the same needs to be confirmed from a scientific perspective through intensive research to identify the active agent, determine the appropriate dose and know the immediate and long term side effects including antidotes thereof. He also informed that side effects like diarrhea, allergic reactions etc, were reported and asked the Manipur Government to initiate all possible measures for safety of the civilians rather than remain as a silent spectator.
Dr M Ruhinikumar, Director, Institute of Bio-resources Development, Imphal, also expressed the need to register the shrub in National Bureau of Plant Genetic Resources, New Delhi for its protection in view of the huge demand from various parts of country. While the stories of recovery of Cancer patients are encouraging, regulating and monitor the proceeding in Saikot may be necessary to avoid health complications in future given the preliminary finding of its corrosive effects on humans.
Sobhapati Samom