ASSAM UNIVERSITY,
Silchar Green Campus, Clean Campus
The students of the department of Mass Communication Assam University recently initiated a one year mission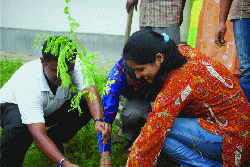 'Green Campus Clean Campus'. Vice Chancellor Prof. Tapodhir Bhattacharjee blew the conch of the mission by planting a sapling. Dean, School of Information Sciences Prof. G.P.Pandey along with faculty members as well as Research scholars and students planted saplings within the campus.
Speaking on the occasion Vice Chancellor Prof. Tapodhir Bhattacharje eencouraged the students to carry out such welfare programme in future for which he will be always ready to help. The saplings were provided by the Rosekandi Tea Estate Manager, Mr. I.B. Ubadia and Mr. R.N. Bhattacharjee, Assistant Conservator of Forests, Silchar Division.
Now-a-days due to the ecological imbalances the human race is facing the hazards of environmental degradation. Cutting of hills, felling of trees, emission of green house gases have threatened the future of human civilization. So at this juncture mission 'Green Campus Clean Campus' started by the students of Assam University, Silchar may be a simple step in this regard but this will inspire the entire more people  which is the need of the hour.