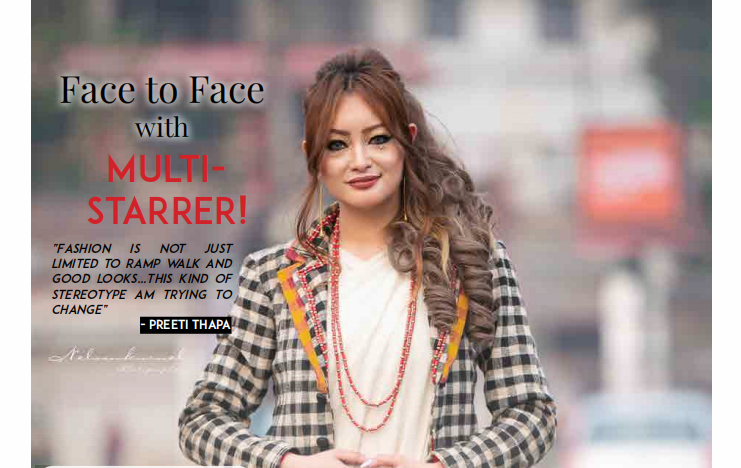 Achievement is largely the product of steadily raising one's level of aspiration and expectation. To this, we turn our attention to a talented and tenacious aspiring Actor, Model, Entrepreneur and Social Activist, Miss Preeti Thapa creating her own legacy within the community. Owning beauty with intelligence, she holds Masters in Sociology and the tag of Mega Miss North East 2012 and Miss Eclectic 2010. She is in the fashion industry since 12 years and is the Founder of Symbol of Sneh Society.
She imparts an important life lesson for all the budding models and actresses. Let's know more about her in an interaction with Eastern Panorama !
1. You have been the founder of Symbol of Sneh Society. How did it all started and what inspired you to do so?
I founded Symbol of Sneh Society in the year 2017 with the goal to help the needy ones. Symbol of Sneh Society is a society that does events for a purpose. The society so far has done Entertainment Events, Fashion Events, Charity events etc. What makes this society a unique one is the ideology of associating itself with the goal of helping the society. Which is after every event, the SOSS team takes charitable initiatives that includes donation of sustainable mask, blankets, clothes, food for stray animals etc.
I came up with the idea of Sustainable fashion through which we are trying to save the environment and especially promoting the local sustainable fabrics and helping to spread the information on environment friendliness of sustainable products among the youth as they are the future of the World. And also we are creating a platform for all the local talents of the state that includes artists, fashion stylist, dancers, models, designers, make up artists etc and promoting them through live events and fashion.
Apart from the classic ramp shows and professional artist, the goal of Symbol of Sneh Society is also to provide opportunities to newcomers /freshers, underground artist. That's why we have a category where there is no age barriers, introducing plus size models, no height criteria, gender equality for all etc.
2. Tell us about your future goals and including experiences so far
To read the further articles please get your copy of Eastern Panorama February issue or mail to contact.easternpanorama@gmail.com