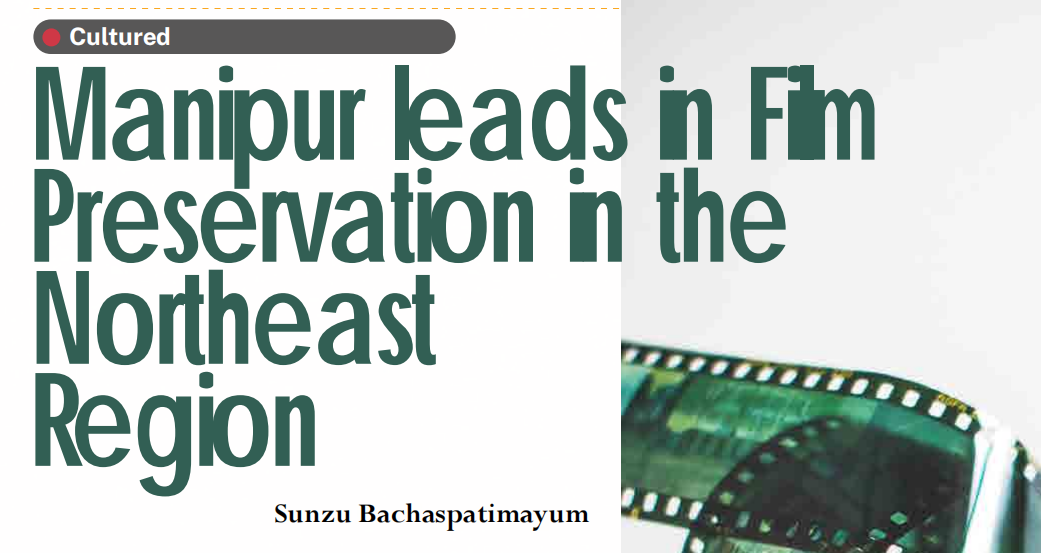 As in sports, Manipur does it again, leading the Northeast region in film preservation as well as it overtakes Assam and Meghalaya after Manipur State Film Development Society, MSFDS, established a Film Archive & Museum named after the first Manipuri film Director, Sapam Nodiya Chand.
In 2011, Assam became the first Northeast state to have its own State Archive under the department of cultural affairs, Government of Assam under the initiative of the Assam State Film (Finance and Development) Corporation (ASFFDC), with a capacity to store 1000 celluloid films. Currently it preserves 65 Assamese films in its film vault, along with a few Manipuri celluloid films. Then in 2019, Meghalaya joined the elite group that cares for film heritage through a collaboration between Sasakawa Peace Foundation, Japan, Meghalaya Tourism and St. Anthony's College, department of Mass Media decided to set up the 'Northeast India AV Archive' an audio-visual public archive. With inventories such as documentary films, newsreels, interviews, amateur footage, sound recordings and photographs from all over the eight Northeastern states, the Archive offers online as well as offline access to the public.
With the inauguration of the SN Chand Cine Archive & Museum as part of the yearlong commemoration of the golden jubilee of Manipuri Cinema on 9 April 2021, Manipur became the first Indian State to have a state run film archive which has a film vault as well as a Conservation Lab where films as well as papers are conserved along with chemical treatment.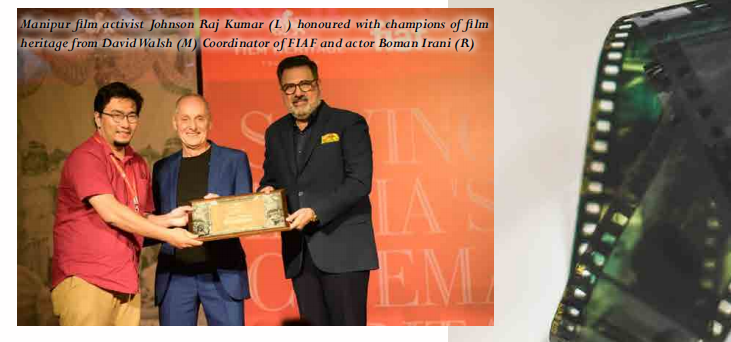 Within the first year of its existence, the SN Chand Cine Archive & Museum, successfully conserved and preserved 'Brojendragee Luhongba', the first film by SN Chand, scanning it, frame-by-frame in 4 K. The Archive re-released 'Brojendragee Luhongba' in its digitised version to a packed crowd during the concluding event of the golden jubilee celebration of Manipur Cinema, held from 9 April 2021 to 28 April 2022.
With Manipuri Cinema crossing 50 years and a Film Archive and Museum in place, the crusade to save the film heritage of Manipur by preserving films produced in Manipur and make them accessible to the public through individual screenings, regular screenings and promote research on Manipuri Cinema thus began under the aegis of MSFDS under the Directorate of Art & Culture, Government of Manipur in all earnest despite fund crunches.
Since early films were made in celluloid films, these celluloid prints deteriorate over time. The images that recorded time in the journey of our civilization will dissipate, if not maintained well. Losing the image means losing visual representation of the time in the history of Manipur.
Before SN Chand Cine Archive & Museum came into existence, archiving and conservation/preservation efforts was almost nil, with even few producers opting to store their positive reels in the Film Archive in Assam.
To read the further articles please get your copy of Eastern Panorama February issue or mail to contact.easternpanorama@gmail.com