Megalithic Remnants, Nartiang (Meghalaya)

The Ma Durga temple is situated on the top of a hillock in the centre of Nartiang village, 65 Kms from Shillong, which was once the summer capital of the Jaintia Kings,of Sutnga State.
The temple, believed to be about 500 years old, is still being maintained by priests of the Brahmanical heredity order whose origin is from Jaintiapur since the days when the Jaintia kings held sway over the Jaintia Parghanas and their plains territories.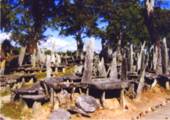 The temple overlooks the famous Nartiang monoliths, the highest being 27 feet in height and also the tallest in the entire Khasi – Jaintia Hills of Ri Hynniewtrep, said to be erected by Mar Phalyngki, a Goliath of yore. The monoliths represent the megalithic culture of the Hynniewtrep people. It is literally the Stonehenge of the North East part of India.
In the earlier days, human sacrifice was reported to have been carried out inside the temple, but this practice was replaced by the sacrifice of goats.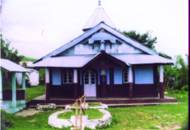 Nearby is another temple in which the images of Lord Shiva are kept. Vintage iron cannons are also displayed which is also known as the Sahmai Mandir. The offerings to Shiva and Ganesh include fruits and the traditional kwai, that is, betel nut with tympew or paan leaves. Offerings are also made to the deity 'ka Sahmai', whose abode is at Nongkhroh, near the Sung village at Puriang, to seek her blessings of protection of crops from natural calamities such as drought.
During Durga puja, the temple and the surroundings are beautifully decorated. The permanent images of the Goddess Durga inside the temple are clothed in new attire and garlanded with marigold flowers. The usual rituals and sacrifices are performed during the festival and the idol is immersed in the Myntang River.
People from all over the country visit this famous Nartiang temple and it has become an important spiritual destination for tourists from all over India.