SACHIN & MAHESH CONFER CHATRAPATI SHIVAJI MAHARAJ AWARD TO JYOTHI VENKATESH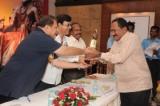 Veteran film and TV journalist Jyothi Venkatesh was bestowed with the prestigious Chatrapati Shivaji Maharaj Achievement award instituted for the second year by Gopa Kumar Pillai, Founder and Secretary People's Arts Centre (Regd) Mumbai The award was conferred upon Jyothi Venkatesh by the veteran Marathi film industry stalwarts Sachin Pilgaonkar and Mahesh Kothare at a well attended function at Hotel Koihinoor Continental on Sunday evening. The award which is given to Malayalees in Mumbai was given to Jyothi Venkatesh for his outstanding contribution to film journalism for the last 40 years.

Sachin said that what differentiated Jyothi Venkatesh from others of his ilk was the fact that he never treaded yellow color as a journalist and was always frank and forthright when he wrote about actors and films and added that he was like a family friend in whom stars could confide. Mahesh Kothari said that till he came to know that Jyothi was a Keralite born and brought up in Mumbai, he had thought that Jyothi was a Maharashtrian because he was the first to write Marathi reviews in English newspapers at a time when Marathi films were never reviewed by mainstream English newspapers in our country and added that he and Sachin were new comers when Jyothi used to write about them and made them popular outside Marathi film industry too.
Besides Jyothi Venkatesh, eight other Malayalees from various other fields like Business, Law, Sports, Trading, Academics, Construction, Medical etc in Mumbai were the recipients of the award, like V. Balachandran,, Dr M.R. Kurup, Kumar Nair, Dr P.P. Ashok, T.V. Santosh, Dr Gopakumar Nair, Satyabhamma R D'Souza and C.T.