Intelligent Advisory System for Farmers
A path breaking ICT initiative for Farmers of North East India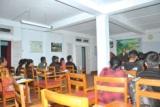 The agricultural extension function of diagnosing and recommending solution to farmers' problems needs database solutions that can be sent through multiple channels with both automated and expert system. Mass broadcast system offered by mobile technologies has the highest penetration of all ICTs (USAID). However, the challenge is finding a viable business model for creating an ecosystem that will ensure sustainably and affordability to all stakeholders.
Thanks to the m-Gov initiative of the Department of Electronics and Information Technology (DEITY) under the Ministry of IT, Government of India, now State and Central Government Departments can use the Mobile Service Delivery Gateway (MSDG) to provide free services to farmers (PUSH SMS). PULL short messaging services (SMS) however will entail users to pay for every SMS sent from their mobile set, which is a revenue earner for mobile service providers.
Farmers rely heavily on field agriculture extension agents or officials of the Department of Agriculture for crop diagnostic and advisory services, whenever faced with the dilemma on how to fend off attacks by insect pests and diseases on their crops; which if left uncontrolled, can lead to severe economic loss and render the resource poor farmer, debt ridden.
In most instances, farmers living in remote geographical areas of North East India, without road connectivity, need to walk for hours to reach the nearest CD Block office to get help. Getting correct diagnosis and timely advice from crop and disease experts is of vital importance in order to take timely corrective measures to save their crops. Need assessment field surveys, analysis of kisan call centre logs and various researches from the field and ICT projects in agriculture reveals that pest and disease advisory is the most sought after service by farmers.
Intelligent Advisory System for Farmers (IASF), a project of Centre for Development of Advanced Computing (CDAC), Mumbai in collaboration with Department of Agriculture Manipur, Meghalaya and Central Agricultural University, Imphal has come to the aid of more than 1800 farmers residing in 9 districts of Manipur and 5 districts in Meghalaya. Funded by DEITY, Ministry of Information Technology, Government of India, this project integrates web technologies with mobile services to connect farmers to agricultural experts and KVK Scientists in real time.
This project covers four major farming activities (Insect Management, Disease Management, Weed Management and Fertilizer Management) which required expert's advice relating to diagnostic and remedial measures. IASF aims to improve and strengthen existing agriculture extension services by integrating Information Technology (IT) with mobile services. This service stores each individual farmer's query in a database along with its relevant solution (called CASE). Whenever a farmer ask a query related to any of the farming activities supported by IASF, the computer system automatically produces a highly probable solution from a large database of CASES containing corresponding expert opinion/advise, given by a team of agriculture experts and subject matter specialist. If the Case is unique in nature, then the system refers this CASE to an agriculture expert or KVK Scientist connected by IASF, for providing the specific remedial solution via email and sms. The expert in turn can answer back by simply sending an sms from his registered mobile to 51969 or by login to his expert account in the IASF portal. A farmer who do not have access to internet can simply raise a query by sending an sms in a specific format to 51969 and get the advice from an expert in his mobile by return sms.
IASF is also a self learning system that acquires new problems and corresponding solutions.The system can help farmer in critical times where access to an agricultural expert is not forthcoming or due to unavailability of agriculture extension worker in the field.The system is especially useful in States and rural areas where the ratio of extension worker to farmer is very wide and where access to such experts is not feasible.
The IASF portal is a collaborative efforts of a team of IT specialists, agricultural experts from various agricultural domain like Plant Protection, Agriculture Extension, Agronomy, from the Department of Agriculture, Government of Manipur; Department of Agriculture, Government of Meghalaya; Central Agriculture University (CAU), Imphal; Krishi Vigyan Kendra (KVKs) of Manipur and Meghalaya as active contributor and knowledge engineers for building the knowledge component of the advisory systems.
The main objectives of IASF are:
Provide improved services to the farming community through the use of ICT.
Advice and help farmers to solve problems related to their farming activities. Otherwise, they need to contact agricultural experts and private extension workers.
Providing vital and generic information to farmers so that they get periodic alerts on important/useful tips, ideas, knowhow etc.
Updates farmers on latest technology in Agriculture sector for improved productivity and quality farming.
Developing an advisory system which can be extended with any other types of crops in any State of India.
Improving agricultural extension service by using mobile services so that farmers can send queries about their farming problem from their mobile device.
To develop an educational materials to be used by students for their practical experience with real case scenario.
The integration of web technology and mobile service delivery gateway has been a boon to this project, where the reach and scale of the services can be expanded exponentially due to the rapid expansion of mobile connectivity in the region.
Beneficiaries of the Project:
FARMERS: Farmers from North East Region of India mainly farmers from Manipur and Meghalaya: Farmers can get direct or indirect advice from agricultural experts for his/her query related to their farming activities covered by IASF. Farmers can also communicate their problems with agricultural experts by sending an SMS text message in a predefined format.
AGRICULTURAL EXPERTS: Experts can advise to farmers' query from anywhere using Internet or mobile SMS. Experts can also share knowledge among themselves by suggesting to other expert's advice given to farmers.
DEPARTMENT OF AGRICULTURE (DOA): DOA can broadcast periodic alerts and useful information to registered users via mobile SMS and email. Department of Agriculture can use IASF as a tool to train new officers and extension functionaries.
STUDENTS: One of major objective of IASF is developing educational materials to be used by students of agriculture for their practical experience with real scenario.
RESEARCH SCHOLARS: Research scholars will be able to study diversity in farmers' problem across north east region of India and how agricultural experts are suggesting remedial measures on various field problems.
To date, IASF is benefiting 1886 registered farmers in 5 districts of Meghalaya and 9 districts of Manipur who uses the platform for redress of their farm problems. The project targets to increase this number to 5000 by the end of this year. 50 Subject Matter Specialist are also registered in the portal to respond to farmer's queries in real time. This project also provides PUSH and PULL mobile services for farmers through the MSDG 5(five) digit short code number 51969. Farmers can self register to the IASF portal via SMS by sending their name, address in a specified format to 51969. This project can be easily scaled and rolled out with localised content and languages to any State of North East India in a very short time. This is the first of its kind project in North East India, where ICT has come to the rescue of resource poor farmers residing in remote and inaccessible part of the country. The integration of web technology and mobile service delivery gateway has been a boon to this project, where the reach and scale of the services can be expanded exponentially due to the rapid expansion of mobile connectivity in the region. To know more about this project, please visit this link http://iasf.cdacmumbai.in/.