Ms Keepu Lepcha A lady with a golden heart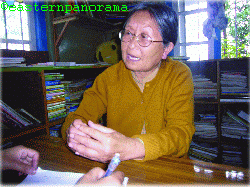 Lepcha Cottage - this is where Sikkim's kindest lady started her noble service by supporting 20 orphans with her own resources. Situated nearly 5kms away from the capital town, Lepcha Cottage in Chanmari
is not just a house but a home for over a hundred orphans. For them, dreams and aspirations bloom in this cottage and one person who has made this house into a home for these children is Ms Keepu Tshering Lepcha, who has devoted her entire life towards nurturing these little flowers in her garden of love and hope. Surrounded by flowers, creepers and plants of all kinds, the cottage is enlivened with peals of laughter from the tiny tots, who have either lost their parents or whose parents reel under poverty.
The year was 1989, when Keepu Lepcha, a civil servant embarked on her parallel role as a mentor for children of her community.
This was when Lepcha children started living with her in her own six-room home, called Lepcha Cottage.
Apart from supporting the children who lived with her, Keepu also helps members of her tribe get access to health care, and improve their social and economic environment. She also endeavours to preserve and promote Lepcha culture and tradition and is trying to revive the dying Lepcha language.
In fact, at Lepcha Cottage, speaking in Lepcha within the premises is compulsory.
On the contrary, Ms Keepu can speak in at least six dialects – English, Hindi, Nepali, Bengali, Lepcha and Bhutia.
"It brings to my mind, the words of my late father, who talked about the need to do something for the Lepcha community." She fulfilled her father's desire through her careers as teacher, civil servant and eventually a social activist.
With just taking care of her relatives' three children for seven years, the 67-year old lady is today the Nekung (grandma in Lepcha) of over 100 orphans.
At 67, she still exudes the same passion  to render services to  humanity.
The run down cottage, at Chanmari, that the children first walked into has spread, with a school at Chongey, nine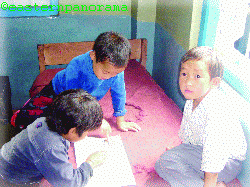 kilometers from Gangtok, also boasts of hostel accommodation and professionals to help the project.
Today, Lepcha no longer finds herself a lone crusader, fighting to provide "the children of a lesser god" with a home, love, values and quality education. With her, is the Human Development Foundation of Sikkim (HDFS), one of Sikkim's best and biggest non-government organizations.
Kepu works on her own at her cottage as well as through an NGO, the HDFS, of which she is the chairperson. It was started in 1997, with help from Swiss and other donors, and its major aim is to cater to the needs of underprivileged children in Sikkim, mainly through education. On November 14, 2003, the HDFS was given the National Award for Children's Welfare by the Indian Government.
Looking back at the rugged road she has traveled, Lepcha finds her chance-meeting with Wendy and Loday Chungyalpa, a Sikkimese couple who had spent most of their days in Australia, the "best gift" to her childrens' home, equaled only by another "tryst with destiny."
Mr. Max Melliger, a tourist from Switzerland, moved as much by her dedication as She was by the plight of the children, formed a "Children of Sikkim Foundation."
At present, a little library has also been set up at Lepcha cottage by the state institute of education, Singapore, as part of work undertaken in developing countries.
Later, it was Melliger, the Chungyalpas and Lepcha, who formed the HDFS to work for the poor children and the destitute of Sikkim, Keepu reminisced.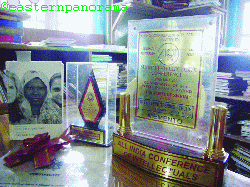 The establishment of the Foundation dates back to 1995, when a few Swiss and German tourists visited the cottage during their trip to Gangtok, they committed to help the needy children by seeking sponsors in Europe. It was then after the tourists' immediate response from Switzerland, an NGO under the name 'Children of Sikkim Foundation' (COSF) was registered, Ms Lepcha said.
They started collecting funds in cash and kind from donors in Europe. Within a short period they found sponsors for 60 children. Encouraged by this result Mr. Max Melliger and some of his friends returned to Sikkim a number of times during 1995 and 1996 to find  other ways and means of using the funds more effectively for the benefit of the needy children, she further informed.
It was in one of these trips, in October 1995, that they met Keepu who was already taking care of 20 children in her home using her own resources. Mr Melliger and his friends were so touched and impressed with the wonderful work she was doing that they dedicated to help Keepu in her work.
As soon as Ms Lepcha learnt about the interest of COSF in Sikkim, she offered a piece of land at Chongey, the only piece of land she possessed besides her small cottage at Chandmari.
The members of COSF accepted the offer and started work on construction of a children's village, a large model campus that would provide food, education and accommodation for needy and destitute children.
After the registration of the HDFS with the Government of Sikkim in 1997, a school for the poor and the needy under the name Padma Odzer Choeling became operational in April 2001 catering to the educational needs of the children both of Lepcha cottage and of the surrounding areas.
Having grown from strength to strength, the Foundation has built a sprawling school complex with over 300 children today, who are given free education with stress on traditional and religious values, art and culture of Sikkim.
"We set our sights high for children, not for ourselves, but we accept that our main responsibility is a practical one. We concentrate on making a real difference to children's lives," Ms Keepu says with a smile.
Another thing that is a subject of pride and happiness for Ms Keepu is her children's performance in board exams. Recently, cent percent result in CBSE Class X have been reported. Passed students are sent to the nearby government Enchey Sr Sec School. But since the enrolment in Enchey increased in the recent years, the students from Padma Odzer Choeling are sent to government school in their respective villages to complete Class XII.
Although, the students are given free education till Class XII, a Lepcha girl, who was good in studies, was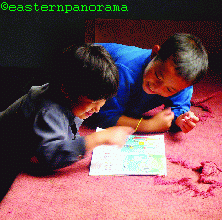 recently sent to Scottish Church College in Kolkata, particularly to encourage other students  to excel in their studies.
But none of this has been particularly easy, though the soft spoken lady says "the journey was smooth as everyone was keen to help me."
There were times when she went into the interiors of the state looking for children, who were deprived of education due to finical crisis. "I was working in the State Government in the offices post. With the money I got from my job, I along with my sister thought of sponsoring the most deprived children and this is how the Lepcha cottage came into existence," she shares.
However, two of the major difficulties Keepu faced have been widespread ignorance among members of the tribe on healthcare issues, particularly with regard to children and the prevalence of alcoholism, which has destroyed many families.
Born in 1942, she has devoted her life to the upliftment of her Lepcha community, indigenous to the Himalayan region of Sikkim. Her main focus was to help educate members, especially the girls, of her diminishing tribe.
Keepu's work has led to significant improvements in terms of children's healthcare and basic education. The impact of her work with children has been inestimable – the children who have changed their lives under her influence serve as role models for other children of the tribe.
She went to primary and secondary school in the capital, Gangtok, before going to college in Darjeeling in WB, Keepu then went on to post graduate studies in Calcutta before returning to Sikkim in 1967 to become a teacher and for a brief period, principal of the Enchey Senior Sec School in Gangtok.
The government school had been established mainly to help refugee Tibetan children, 400 of whom, including 97 girls, were in the school's hostel. Keepu volunteered to stay with the girls and developed an excellent rapport with the school's children, many of whom had lost their parents while fleeing Tibet. Apart from academic guidance, Keepu and other teachers also helped the refuge children deal with such aspects of their lives as bathing, washing their clothes, cutting their hair and so on.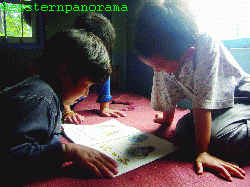 Love seems to bloom everyday in Lepcha Cottage.  I enter the parlour, I could see three kids just brought in from a village in East Sikkim. I can also see Ms Keepu, who had just returned from a Vipassana meditation course in Pune hear patiently a generous Sikkimese lady divulge the story of the children, who were tortured by an alcoholic father back in their village.
The lady with a golden heart wishes to teach Vipassana meditation to the students.
Asked what subject she teaches to the students, the lady with a big smiles tells me that the words of Mr Melliger, "Look after the kids like the little plants" has always inspired her.
For her continuing and selfless work in the development of underprivileged children, her name features among 1000 peace women across the globe, published by the association 1000 women for the Nobel Peace Prize, 2005.
The Sikkim Government also conferred her with the Best Social Service Award on the occasion of the State Day on My 16, 2007 for her outstanding contribution in the field of social service.
She has also bestowed with "Jewel of Sikkim" during the Sikkim Intellectuals Conference on humanism, nationalism and peace on My 29, 2005.
Keepu is happier today. What she had done hitherto has borne fruit. The students like Phursang, Norkit, Keden and Ongmu, some of whom are married visit Lepcha Cottage with their children. And try  to do what Keepu has taught them.
Yishey D.