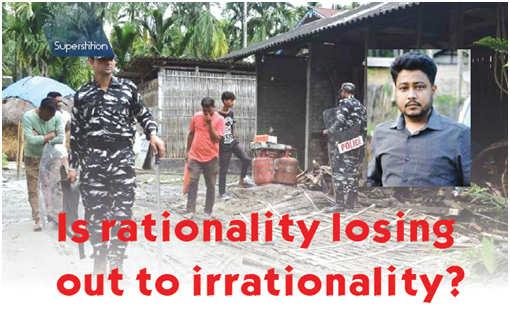 In today's cut throat competitive world, everybody wants to climb the ladder of success. The desires are aplenty. One wish is followed by another wish and the cycle continues. Every dark night is followed by sunrise. There will be ups and down in life—in fact these are bound to happen. Instead of looking at life from the prism of negativity, we should imbibe the habit of thinking positive.
On February 1, 2019, the then Social Welfare Minister of Assam Pramila Rani Brahma informed the House that in the past 18 years, Assam had witnessed 161 witch-hunting related deaths.
In fact since 2001, a total of 133 witch-hunting related cases have been registered across Assam, the Minister was quoted as telling in the House. Of the 27 districts in Assam, witch-hunting is dominating in 17 districts. Kokrajhar is leading the tally followed by Chirang and Goalpara. Tinsukia and Udalguri are also in this category.
Much before the Udalguri incident, where a Science teacher has been accused of trying to sacrifice a 3-year-old minor, a similar incident happened in Kokrajhar where a 50-year-old farmer Nirbhoy Rabha was brutally beaten till death by his fellow villagers who accused him of practising black magic.
The irony is that till now the government is in deep slumber and is yet to come up with a specific policy to tackle such superstitious activities that are rising in the state with every passing day.
The Udalguri incident has once again forced us to put forward a very simple question—is rationality losing out to irrationality?
The Tantriks and Babas are dominating the electronic channels these days. We have already seen how the self declared god men like Dera Sacha Sauda supremo Gurmit Ram Rahim Singh and Asaram Bapu have played with the beliefs of their devotees.
These god men get political patronage because they bring with them a large number of their followers who can be motivated during elections.
However, there is another side of this story. Being deeply religious can't be considered as a superstitious belief because devotion is followed by spirituality. Today our society is on the downslide because we are all participating in this mad rush with only one aim—by hook or by crook we have to be successful.
We have lost our self-belief and this is the root cause of superstition. Anti-superstition activists like Dr Narendra Dabholkar and Professor M. M. Kalburgi had to pay a heavy price for raising their voice against irrational and superstitious activities.
Much needs to be done. Simply by raising voice against such evil practises will not serve the purpose. At a time when our society is at crossroad, it will be apt for us to take a leaf out of the struggle of one of the noted social reformers of British India—Raja Ram Mohan Roy
Due to his unflinching faith in his abilities, Ram Mohan Roy succeeded in compelling the British government to bring a law against Sati Pratha that was prevalent at that point of time.
The media too have a larger role to play. Following the brutal assassination of Dabholkar, Maharashtra government passed 'The Maharashtra Prevention and Eradication of Human Sacrifice and other Inhuman, Evil and Aghori Practices and Black Magic Act, 2013.'
Now, the question arises, will it serve the purpose? Is the role of government restricted only to passing laws? It will also be naive to rely solely on government alone.
From celebrities to politicians—all of them chase astrologers and numerologists to secure their luck. As long as it is restricted to your core belief, there will be no harm. But the problem begins when one becomes addicted to astrology and numerology.
Satraajit Palchoudhury
To read the further articles please get your copy of Eastern Panorama August issue @http://www.magzter.com/IN/Hill-Publications/Eastern-Panorama/News/ or mail to contact @easternpanorama.in