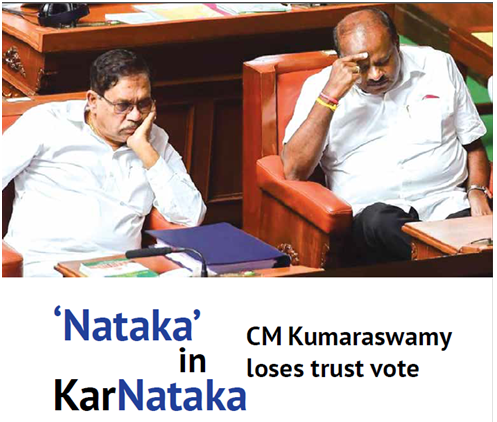 Between 2008 and 2013, when BJP ruled Karnataka, the term
Operation Kamala was coined for luring the opposition MLAs into the
party fold by making them resign. The main reason for this was BJP had
failed to secure 113 seats in the assembly with party falling short by
5 seats to secure a simple majority. In 2018 Assembly Election, the
same trend was repeated with BJP failing to win a simple majority by 8
seats. In the name of keeping the communal BJP away from the power,
JDS which had won just 37 seats joined hands with Congress making a
way for another coalition government. As expected finally, the
Congress-JD(S) coalition government which was unstable since its
inception has lost trust vote and collapsed after ruling Karnataka for
14 months. Confidence motion moved by the Chief Minister HD
Kumaraswamy after 15 MLAs of the ruling coalition tendering
resignation put to vote after six long days of debate and
uncertainties on July 23. He lost the vote of confidence by the margin
of six votes ending his rule. With this, a week-long political drama
which made everyone stand on tiptoes came to an end.

In Karnataka politics, it was an open secret that BJP is trying to
lure Congress-JDS MLAs since day one after the formation of the HD
Kumaraswamy led government.

In 2018 assembly poll, BJP emerged as a single largest part. But it
failed to win 113 seats making it just short of the required number to
form a stable government. Still, BS Yeddyurappa took oath as the Chief
Minister assuming a few JDS –Congress MLAs may defect at the time of
confidence motion. Governor Vajubai Vala gave him 15 days time to
prove majority which was brought down to 24 hours after JDS and
Congress moved to the Supreme Court. Yeddyurappa failed to prove the
vote of confidence and resigned for his post. Later Congress and
JD(S) coalition form the government and H D Kumaraswami became Chief Minister.

But since day one, the political circles were abuzz with the Operation
Kamala. Gokak MLA Ramesh Jarakiholi, a Congress strongman led the
rebel Congress MLAs group. He kept on threatening the government. An
audio-tape in which Yeddyurappa offering money to a JDS MLA went viral.
Congress took its MLAs to resort several times to save the
government. One such resort stays resulted in a bad brawl between
party MLAs from the Ballari Anand Singh and Kampli Ganesh. The footage
of this bar brawl went viral on social media.

Coalition blues after Lok Sabha elections

Despite criticisms and differences, JD(S) and Congress government
continued to rule the state. But Lok Sabha election results brought a
big shock to the alliance parties. Congress and JD(S) alliance won
just two seats in the state and it made inner conflicts between these
two parties, crystal clear to the outer world. Kumaraswamy's son
Nikhil Kumaraswamy's shock defeat in Mandya Lok Sabha constituency
and former Prime Minister HD Deve Gowda's defeat in Tumakuru
constituency were a greater embarrassment for the coalition
government. Still, alliance parties didn't take moral responsibility
for the defeat and dissolve the assembly. It can be recalled that in
the year 1983, then CM late Ramakrishna Hegde who faced a similar
situation, went for a fresh poll and got a clear mandate.

Instead, Kumaraswamy re-launched his previous government's successful
program `Grama Vatsavya' (village stay) to regain the lost popularity
among the public.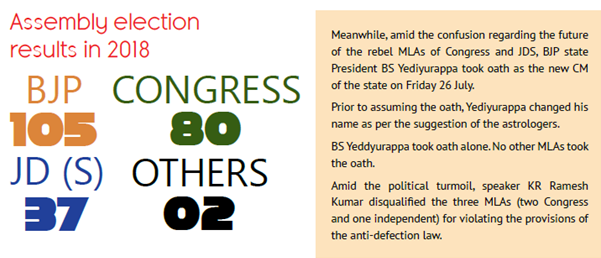 But BJP had other ideas. It lured 12 Congress MLAs and 3 JDS MLAs
including JDS state President H Vishwanath and sent them to Mumbai.
Aircraft belong to a senior BJP leader who is also an MP was used to
ferry the MLAs to Mumbai. Congress and JDS leaders ridiculed that this
flight was operated like auto as it made several trips between
Bengaluru and Mumbai. Zero traffic was created to allow the MLAs to
reach the speaker's office tender resignation. The state witnessed
another turmoil.

Collapse of Congress and JD(S) government


Dr. Shrinidhi Adiga
To read the further articles please get your copy of Eastern Panorama August issue @http://www.magzter.com/IN/Hill-Publications/Eastern-Panorama/News/ or mail to contact @easternpanorama.in