Manipur's  Bio - DIEversity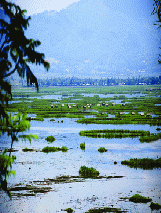 Biological diversity or biodiversity is the term given to the variety of life on Earth and the natural patterns it forms. The biodiversity we see today is the fruit of billions of years of evolution, shaped by natural processes and, increasingly, by the influence of humans. It forms the web of life of which we are an integral part and upon which we so fully depend. But this valued biodiversity on earth is threatened by our own activities. The United Nations, identifying this as a serious threat to our own survival has declared the year 2010 as the International Year of Biodiversity. Despite its relatively small land area of 22,000sq.km, Manipur is blessed with exceptionally high diversity of flora and fauna. This has earned the state recognition together with Indo-Myanmar as an area having one of the richest biodiversity in the world and is known as a biodiversity hotspot.
However, the ongoing trend of environmental change, pollution and developmental activities ushered in by rapid modernization and urbanization as well as the introduction of non-local fish species in pisciculture has shoved indigenous fish varieties to the brink of extinction in the state.
In true spirit, next to rice, fish is a major part of the food culture of Manipur. It also forms an important part of the traditional and religious rituals of 2.5 million Manipuris.
Noted environmentalist and teacher Dr H Nandiram Sharma seems to agree. "Manipur's hydrological system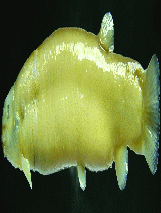 has been drastically changed due to human pressure," he says. In the early 20th century, the state had around 100 lakes. Now, with the exception of Loktak, Pumlen and Sanapat, all of them are dead.
Sharing a similar sentiment, the Director of State fisheries department K Saratkumar said, "Drying up of wetlands and farming of high yielding fish variety are also some factors for the dying out of local fish."
According to Professor Dr Waikhom Vishwanath of Manipur University's Life Sciences Department, 15 out of more than 200 local fish species in the state are on the endangered list. Among them are Nganap (Pangio pangia), Sareng Khoibi (Botia berdmorei), Ngasep (Mystus bleekeri) and Ngamu (Channa orientalis).
Pengba (Osteobrama belangeri) which used to be found abundantly in the freshwater Loktak Lake and Nambul River are extinct in their wild habitat and are now cultured and bred only in farms. It may be noted here that Pengba had been declared as the state fish in November, 2007.
Besides their food value these fishes play a vital role in preserving the rich culture and tradition of Manipuris. Traditionally the tiny Nganap fish forms part of the meal of newly wedded Manipuri couples on their marriage night. "Earlier we used to get these fishes in the lakes, but it's very hard to find them now," says Ibecha, a fish vendor in Pishum market in Imphal, adding, "Sometime people used to replace Nganap with some other variety."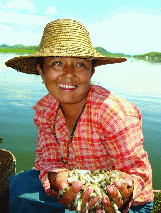 Manipuris also use other varieties of fish in their customary rites. Ngamu commonly called 'Snake-head' or 'Murrel' is an essential part of the Ipan Thaba ritual of the Meiteis. As many as seven varieties of locally found fish such as Ngasang (Esomus Danricus), Ngamu, Ngakha (Puntius Manipurensis), Ngapemma (Colisa fasciatus), Ngakijou (Lepidocephalus guntea), Ngasep and Ngamhai (Parambassis ranga) are used in the Ipan Thaba ritual which is primarily conducted on the sixth day of a child's birth to initiate the child into the culture and tradition of the Meiteis as well as to pray to ancestors and the gods for a long and productive life of the child. Ngamu is also primarily used in marriages, traditional healing rites and forms an essential part of an exclusive diet for new mothers.
Dr Vishwanath in one of his write - ups had said that the fish exhibit enormous diversity in their structure, color, behavior, life history, and in the habitats they occupy. Although they are a heterogeneous assemblage, they do exhibit a phylogenetic community and many of them are closely related to mammals. They are of immense value to human beings. Fishes have long been a staple item in the diet of many people. Today, they occupy an important place in the economy of many nations. They give incalculable recreational and psychological value to naturalists, sport enthusiasts, and home aquarist.
It is said that Dr. Sunderlal Hora, the eminent ichthyologist visited Manipur in 1920 and wrote, 'Owing to religious tenets, the Manipuris are forbidden any kind of animal food except fish, which thus forms a very important item in the diet'. He also noted them to be very intelligent people, as they do not waste the contents of the belly of fishes, which contain nutritionally rich oil. The Manipuris do not allow any kind of meat except fish in their kitchens.
"Fish is an integral part of Manipuri society, so the time has come to save them for the sake of our society," said N Tombiraj, President of the state's Traditional Healers Association.
Interestingly the upstream areas of major rivers in Manipur are the breeding ground of many of these fish species. However, dumping of waste and household sewage drainage into the rivers in the rapidly developing towns of the state especially in the capital city of Imphal as well as the pollution of water bodies due to prolonged use of fertilizers and pesticides in the agricultural fields have resulted in the disappearance of these species from markets since the last decade.
"Indiscriminate fishing of fingerlings and use of chemical fertilizer in agricultural land are the key factors for the disappearance of local fish varieties such as Ngakra (Clarias magur)," Lokeshwar, a Researcher in Manipur University's Life Science Department echoed.
Due to the lack of awareness, fish mongers usually sell fingerlings of indigenous local species in the market.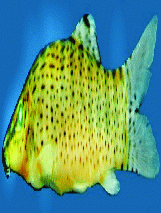 Thus bigger and full grown Ngakra and Ngamu are found only once in a while these days.
There are some instances wherein our farmers switched over to farming of non-local varieties because they have more economic value than farming local varieties. However, Dhanabir of Ningombam Village in Manipur's Imphal West district who already started to produce Pengba species for local consumption has pointed out that "It's because of a lack of awareness about farming local varieties." The time has come to generate awareness on the feasibilities of farming local fish varieties with technical inputs from experts, this successful farmer felt.
The silver lining is that a few persons like Professor Vishwanath are concerned about the dying fish species. "We need a proper research institute to save our fishes," he says, adding, "We also need to propagate our native fauna."
The state's Fisheries Department is also making a u-turn from its earlier stance of mass-production of non-local Rohu, Grass carp and Common carp species to meet the state's annual demand of 25,000 metric tonnes of fish, and is now encouraging the farming of native and endangered varieties.
"Ours is not an institution, but we had started research work on the farming of Pengba and Ngaton since last year," said K Saratkumar, Director of State Fisheries department. The department and other private parties are also organizing special training programs on local fish farming from time to time to revive native fish.
Sobhapati Samom