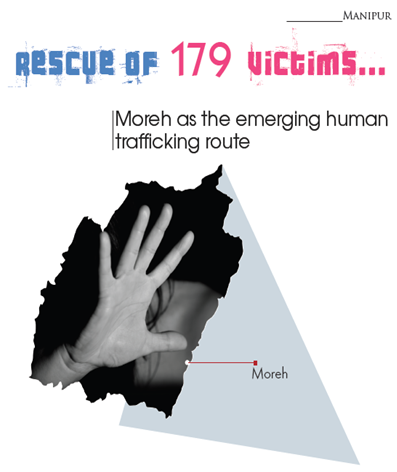 According to the United Nations Office for Drugs and Crime (UNODC), South Asia is the fastest-growing and second-largest region for human trafficking in the world after East Asia. Most human trafficking victims come from poor rural areas, lured with promises of good jobs, only to find themselves forced to work in fields or brick kilns, confined in homes as domestic workers or as commercial sex workers.
Until recently, Nepal was the preferred transit point for traffickers to send women to the Gulf but the rescue of 179 Nepalis, 147 women and 32 men, from the north-eastern state of Manipur by the state police in February reveals Moreh, a bustling commercial Indian border town in Manipur, bordering Myanmar, as the emerging border point for human trafficking.
The rescue operation was launched after Maiti Nepal, a Kathmandu based NGO working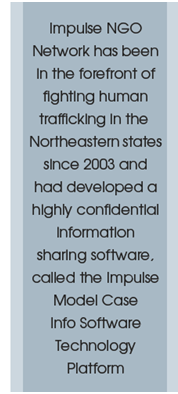 against human trafficking, informed Impulse NGO Network based in Shillong, Meghalaya, another NGO working against human trafficking in Northeast India, that a large number of Nepali girls and boys have travelled to Northeast India to get into Myanmar and are being trafficked to the gulf countries in batches.
Manipur Anti-Human Trafficking Unit while briefing media after the successful rescue operation in February this year informed that the rescue persons were without any valid travel documents or their passports with them when they were rescued. Apparently the main handler in the case who escaped without a trace took away all their travel documents and passports. According the anti human trafficking unit most of the victims were highly educated and fluent in English. While a few, flew from Delhi to Imphal, most took the train from Bagdogra to Dimapur in Nagaland and from there boarded the bus to Imphal and Moreh.
According to Emarine Kharbhih, the programme manager of Impulse NGO Network, the victims were promised plump jobs as company executives or secretarial jobs in Malaysia and Dubai but she speculated that they would be mostly used as construction workers or as bonded labourers.
According to Manipur Commission for Protection of Child Rights Member, Keisham Pradipkumar Singh, "as many as 301 have crossed over to Myanmar from December 2018 to January via Moreh border."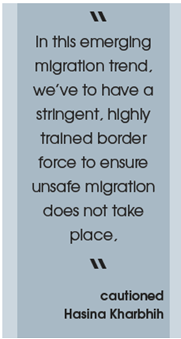 "The next round of operation will take place in Myanmar. We've to work with the Myanmar authority and other partners to track those who have already crossed the border," announced Emarine Kharbhih.
Asha Kali Tamang, one of the Nepali handler, a resident of Sinddhupalchok in Nepal, who was arrested in Manipur said that one Rajiv Sharma sent the girls and boys from Sunauli, the India-Nepal border town in Uttar Pradesh. After crossing to Myanmar via Moreh, they were being smuggled to the Gulf countries, Iraq, Kuwait and other Middle Eastern countries.
Until recently, human trafficking had not yet made it to the list of regular illicit activities in Moreh as a transit point. Besides being a center for legal border trade of cheap Chinese electronics and garments, Moreh is notorious for smuggling activities, right from Burmese precious stones to animal products, teak, sandalwood, gold, arms and contraband drugs.
Sunzu Bachaspatimayum
To read the further articles please get your copy of Eastern Panorama March issue @http://www.magzter.com/IN/Hill-Publications/Eastern-Panorama/News/ or mail to contact @easternpanorama.in