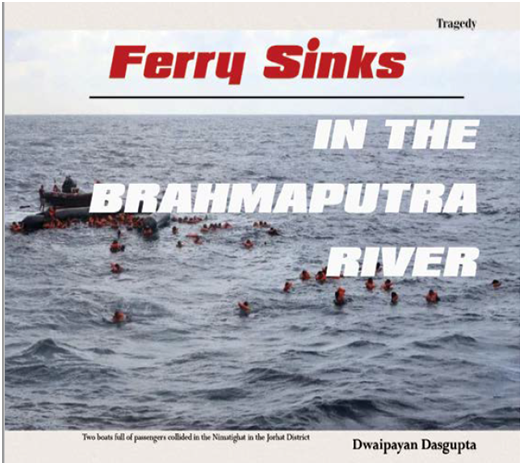 What has come about the other day that is on the fateful afternoon of September 9, in the mighty Brahmaputra in full spate at Nimatighat near Jorhat is something horrid, a tragic boat accident in which scores of passengers are feared drawn in the river. The mishap has occurred when an ill-fated ferry coming from Kamalbari Ghat in Majuli collided with one proceeding towards the river island.
The tragic ferry accident has once again exposed the lack of safety measures which used to carry passengers safe over the Brahmaputra, particularly the rainy season when the river is in menacingly high spate as is now, as also the seemingly offhand manner in which both our State Government and the Inland Water Transport department are running the services.
Arguably, this is not the only ferry accident on the Brahmaputra. In the past several similar shocking incidents had occurred triggering loss of lives of the passengers, depressingly, from the cavalier fashion in which the concerned authorities have been conducting services seldom suggests that they have learnt anything from the past mistakes and failing. Honestly speaking, the past couple of years had witnessed three such fatal boat accidents resulting in loss of scores of lives of the commuters. These tragic accidents had occurred during the regimes of Prafulla Kumar Mahanta, late Tarun Gogoi and even during the tenure of the former Chief Minister Sarbananda Sonowal. During his rule, it had occurred in North Guwahati on September 5, 2018.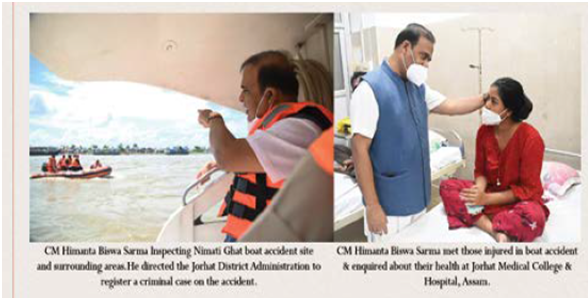 It is important to note here that after such major accidents, the concerned authorities issued all-important instructions to initiate pre-cautionary measures. But they, not surprisingly, did on most occasions' paper work only with the absence of monitoring agency. Worryingly, water boats are in operation on the rivers of the State, allegedly in total disregard even to the basic norms of safe journey. Due to apathy, insensitivity on the part of the authorities of the concerned department, the inland waterways have been reduced to a deathtrap. To exemplify, the post 2012 Dhubri ferry accident that had come about during the tenure of late Gogoi, the additional Chief Secretary Jitesh Khosla, probed into the circumstances leading to the shocking incident, and gave some recommendations to the government. But the department did hardly anything to implement them.
After the September 5, 2018 tragic ferry accident in North Guwahati, the Assam Inland Water Transport Regulatory Act (AIWTRA) was enacted to streamline the island water transport in the State. So in order to achieve its goal, the Act, inter alia, sought registration the vessels and the operators, issuance of licenses, permissions, providing an adequate number of life jackets and lifebuoy for passengers, monitoring the carrying capacity and fitness of vessels etc.
Dwaipayan Dasgupta
To read the further articles please get your copy of Eastern Panorama October issue @http://www.magzter.com/IN/Hill-Publications/Eastern-Panorama/News/ or mail to contact @easternpanorama.in